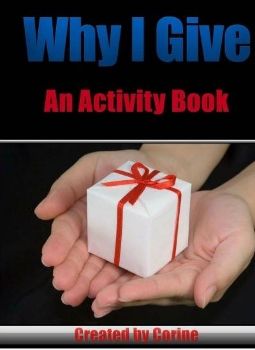 My kids LOVE doing crafts and worksheet-type activities. I also love teaching them why, as Christians, we give gifts at Christmastime. God loves us so much that he gave us the most awesome gift, his son, Jesus. I received a copy of Why I Give, an Activity Book by Corine Hyman for this review.
  There are about 55 work pages in the book, with lots of fun activities! There are journal pages, coloring pages, and ideas for gifts to make yourself to give to other! You'll learn how to make bird seed cakes, no-sew blankets, bottle cap magnets, a secret center book, and even more! I really love that the book's activities are fun for both older and younger children, and convey the reason we give gifts to others at Christmastime.
  So far we have done several worksheet activities, but I plan to have the kids do some of the gift-making activities as well. How fun to teach your kids how to make a gift themselves to give away to their friends or family! If you'd like your children to learn about gift-giving, and even have some ideas for fun things to make, definitely check out the Why I Give Activity Book!
Disclaimer: I was given a copy of this book for free for the purpose of my review, and all opinions are my own.