Hey, y'all! Wow, can you believe it's June already? Where the barnacles has this half-year gone already? It seems like we just celebrated Christmas yesterday!
Are you a menu planner? If not, you totally should be! If you'll spend just a few minutes a week planning your menu, you'll save the hassle of trying to think of something last minute every day.

No, I'm not perfect, and sometimes I forget to plan, too, but I always regret it. I like to keep our menu plan written into my gorgeous Inkwell Press Flex Planner. The planner is a nice size, and the paper quality is fantastic. This year's planners are all sold out, but new ones will be available in September. Tony also offers great products like fitness logs, notepads, journals, and meal planners! If you'll click the link to Inkwell Press, you'll receive $10 off your purchase of $50 or more.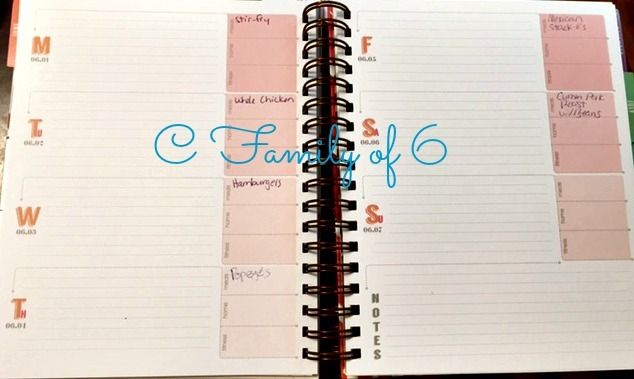 Now, onto our menu! You can see it above in the photo, but I'm going to go ahead and list it as well. Sometimes I'll think of sides right away, and sometimes I do that last minute. As long as I at least have the main dish pre-planned I don't panic too much.
Monday: Stir-fry with jasmine rice (yum, my favorite rice!)
Tuesday: Whole chicken, baked, with sides, probably baked potatoes and green beans.
Wednesday: Hamburgers, grilled or fried, not sure yet
Thursday: Popeye's chicken! I need to remember to look for a coupon book at the Dr. this week. They always have coupons for Popeye's chicken in them, and it's t-ball game night for Lucas.
Friday: Mexican Stack-E's
Saturday: Cumin Pork Roast w/beans
Sunday: We eat at the in-law's house. We eat there every other Sunday afternoon, and I usually don't cook a late meal, it's whatever everyone can find.
The last 2 recipes I listed can be found at the $5 Meal Plan website. When you sign up, you get a week's meal plan that includes some yummy desserts. The rates are pretty affordable. I keep my recipes in a folder and go through them occasionally when I want something different. The best part? If you're new to the $5 Plan, you can get your first 4 weeks free!
Be sure to download the shopping list that I created. You can type directly into the text boxes and save your work!
This is my weekly menu link-up, so if you're posting your menu plan for the week as well, be sure to link up with me!
Grab my button!