I'm one of those lucky folks who doesn't retain information very well…at all. The only things I can really remember from my own school days are what I learned in English classes, and a few basic Math, Science, and Social Studies tidbits. I learned as an adult that I am definitely a kinesthetic learner as opposed to just visual or audio. That's what I love about homeschooling my own children. I can cater to whatever individual needs they have. Our family was given a year's access to Digital Science Online: Elementary Edition (Grades K-5) and Digital Science Online: Secondary Edition (Grades 6-12)  from Visual Learning Systems.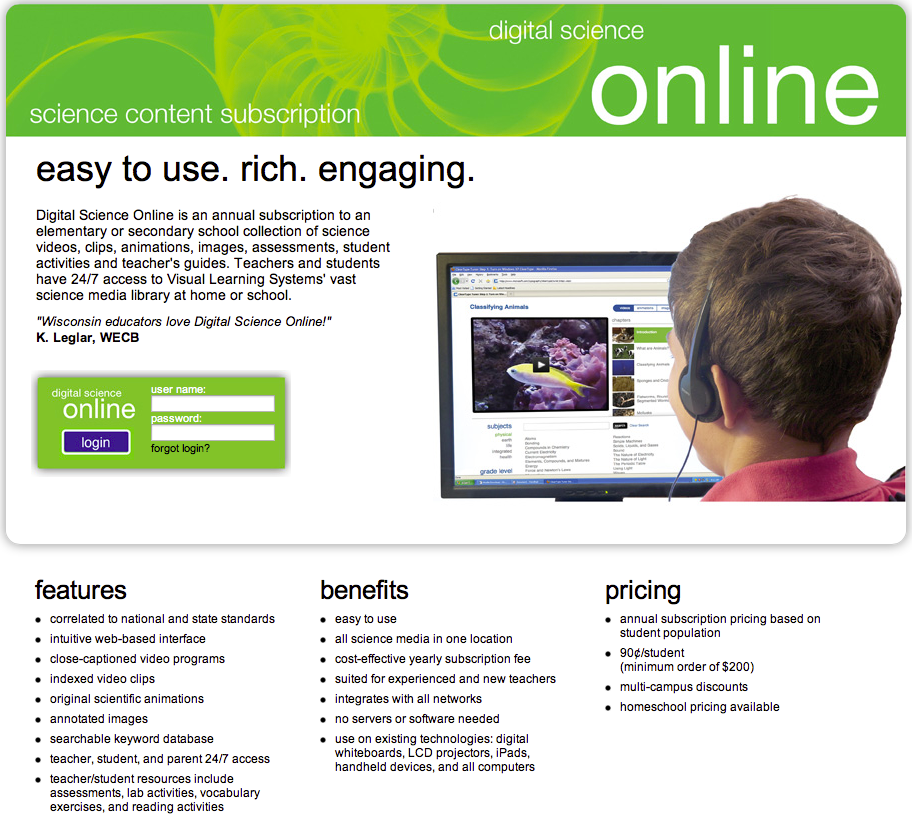 Our access includes SO many videos, graphics, animations, and teacher resources that include worksheets for each lesson, learning objectives, video scripts, and an introduction to the videos with lesson-related tasks and questions to complete beforehand.  The first thing that caught my eye about Digital Science online is that I could use this for all of my children, and that it encompasses visual, auditory, and kinesthetic learning all in one. If we wanted to, we could all sit together and watch each lesson as a group, or I could let each child watch them on their own. The videos are accessible via a PC, Mac, iPad, or other tablet. The videos are all online, so the only downloads are the worksheets. The science subjects that are covered are physical, earth, life, and health, integrated, and biology sciences. The lessons are arranged in alphabetical order, which is nice for the OCD folks.
*Note that health is only in the primary and middle/high school levels, and integrated and biology is in the middle/high school section only. The Elementary portion is actually broken down by both Primary and Elementary.
In total there are over 250 lessons. Each lesson starts with an introduction video, and then several shorter chapter videos related to the lesson. The lessons are narrated by a real person, and not a robotic voice, so that is very nice. They are also closed captioned, but only in English. It would be cool if other languages were available as well.
The student worksheets are probably my favorite thing. It's not just one simple page per lesson, but several in-depth sheets. There are pre and post-assessment worksheets, video reviews (some are actually completed during the video), quizzes, vocabulary exercises, and some are just general work. Students can actually pull up the worksheets themselves to print, so you don't have to go into your teacher account to do this, which is a great feature to have.
There are also lesson-related short animations and photos, so if you're in a certain part of the lesson and want a little extra something, these are nice. They sort of further describe the topics, but certainly aren't a requirement.
From what I can tell, there's not a major difference between the teacher and student accounts, other than the teacher resources. Student can access the worksheets on their end, but the teacher account also has access to the learning objectives, video introductions, and the video script. You can download the teacher's guide in full, or you can just view each individual section. I prefer the individual section breakdown.
How We Used It
I decided to go the "easy" way and let the kids work this on their own. It's usually easier for me to go this route, because they can choose the topic they want to learn about the most. Sometimes I may do a group setting, and sometimes not. That's what I love about this program, is that it pretty much caters itself to what you want to do. I haven't used the worksheets as much, but I'm planning to utilize those more in the future, because we will definitely continue to use the Digital Science Online program. With the worksheets, you could easily make each lesson into a week's worth of work, either working every day, or a couple of days per week. It makes a wonderful resource on its own, or you could even use it to enhance the science curriculum that you currently use. The only downside that I see is that the worksheets aren't really young child friendly. Lucas is 6 and not a good reader, and I wasn't able to use any of them with him  just as they are. There were some with labeling that I could have him point out the answer to me if I read the question, and he could help with hands-on activities, but not any actual written work. I would love to see some more young child-friendly worksheets available. They are great for the older kids, though. All in all, I love this program and really think it's a great addition to our day.
You can follow along with Visual Learning Systems on Facebook and Twitter. Be sure to click below an read review from my fellow Crew Mates. Thanks for stopping by!