As a general rule, I'm not much for following a rigorous lesson plan when it comes to school work. As long as we get our work done, I'm good. I love finding products that fit into our family dynamic without us having to adapt heavily to it. When I found out that we were reviewing a history curriculum, Veritas Press Self-Paced History from Veritas Press, I was most excited. We received a year's access to Veritas Press Self-Paced History: Old Testament and Ancient Egypt and a set of Old Testament & Ancient Egypt Flashcards. These products are recommended for grades 2-6, and at the time of posting is $199, with a sibling discount of $100. The flashcards are $19.95 at the time of posting. Veritas Press is known for presenting homeschool products that teach in a classical Christian manner, and this curriculum reflects that. Prior to this review, I had only heard of Veritas Press but was not overly familiar with them as we've never used any of their products before now.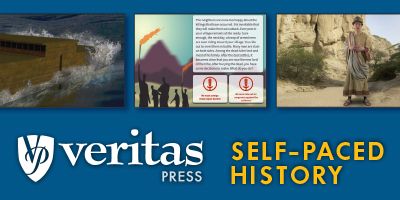 I love History, and I tend to prefer going in chronological order unless a particular topic catches my or the kids' attention. For this review, though, we chose to start at the beginning with the Old Testament and Ancient Egypt time period. While we've covered the OT somewhat, we haven't covered Egypt very much at all. The program covers 32 major events over a period of 160 lessons, with each topic covered over a week's (5 days) time period. We watched a sample lesson before the review period began, and I think Lucas was the most excited about the presentation of the lessons.
The program is entirely online. Yay for no clutter! Sometimes I like having physical products to use, and other times I don't really give a hoot, especially if it's easy to use with the kids. The 32 events that are covered have a flashcard to accompany them (32 events, 32 flashcards). One side of the flashcards features a beautiful work of art that is related to the topic as well as the topic name. The opposite side of the card is sort of a synopsis of what you'll be learning for that topic, as well as some additional resources, although I don't really think anything extra is needed unless you just want to include it. The cards also have a nice glossy finish to them. Below are the front and back of the first flashcard.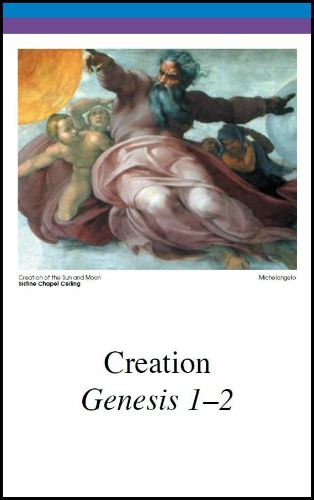 The lessons are presented in a slide format, with period-dressed characters, and a talking Sphinx (the kids really loved this part, especially Lucas). Each lesson also features a memory song that covers some or all of the lesson topics, but the kids didn't really care for it much. It kind of goes quickly and was hard for us to understand clearly. Thankfully the lyrics are available as an attachment within the lessons. The flashcards are also read in the lessons, although it is really helpful to have a physical card unless you like taking notes. Lessons are broken down by section, or "slide" similar to a PowerPoint format. The lesson pops up in a new window, and the number of slides for that lesson are displayed on the bottom. The top of the window contains a drop-down menu containing the table of contents for the lesson, as well as any attachments, such as the lyrics to the memory song. The slides do not advance on their own from one to the next, you have to click the "Next" button on the bottom to go on, although some will go on to the next on their own, especially if the section is a story-type format. You can not advance to the next slide until the current one has finished playing, so there's no skipping ahead. The lessons also must be completed in order. You cannot start lesson 2 until you've completed lesson 1. The only time this was a negative for us was when the memory song came on. There are small review games throughout the lessons, as well as a test at the end of the week. You can review test questions after your answers are submitted for grading, but you can't change your answers. Some topics covered in this program are:
Cain and Abel
Tower of Babel
First Intermediate Period in Egypt
Hagar and Ishmael
Code of Hammurabi
The Exodus
Reign of Tutankhamon
There is also some map and timeline work. Students get to place a medallion that falls on a map to the section has been covered in the previous lesson topic. In all, the lessons aren't very long at all.
How We Used It
Like many products we use for our homeschool, I wanted to be able to use this with all of the kids together if possible. It was actually pretty simple. I just hooked up either a laptop or my Windows RT tablet to our TV, and I had an instant projector for our lessons. Either I or one of the kids would sit next to the computer in order to advance the slides or enter answers for quizzes and tests. All questions were done as a group effort in order to give everyone a chance to give an answer, and everyone is still learning.
What Do I Think?
Overall, I like what the program has to offer. It's self-paced, so we can do as many lessons at a time as we want to do. Everything is automatically graded for you. The lessons are interactive and fun, and present great information that is Bible-based. The talking Sphinx was our favorite part of the lesson. I love that it's so easy to use. One thing I did not really care for was the fact that once a lesson is completed, you can only go back to review them, you cannot change your answers to get a better grade, which is what I make my kids do when they get incorrect answers. I'd like to be able to have my kids go back and correct mistakes to improve their grade.
You can follow along with Veritas Press on Facebook, Google+, Twitter, and Pinterest. Click the banner below to read reviews from my fellow Crew Mates. Thanks for stopping by!