I'm often on the lookout for new ways to teach subjects, and Math is no exception. Every child has unique needs, and not every child thrives on the same program. It's great to have so many options available to choose from. Our family was given the opportunity to review a new online Math program from UnLock Math, called UnLock Pre-Algebra. 
UnLock Pre-Algebra was founded by Alesia Blackwood, and she actually teaches the lessons, too! Alesia has a diverse Math background, and so she is well-qualified to tutor students in Math. UnLock Math is actually a brand new online program! I'm sure like many other homeschool programs that it will quickly make the rounds to many homeschool families. Isaac was the lucky one to take part in this review. This is recommended for grades 7+, or when you think your child is ready for pre-algebra.
How it Works ~ Students
When a student logs into their account (each will have their own), they are taken to their dashboard. This will show the list of lesson topics, they average grade so far, and their progress for each unit. There are 16 units/topics that are covered here. They are as follows:
1. Whole Numbers
2. Integers
3. Variables and Expressions
4. Rational Numbers
5. Fractions
6. Equations
7. Inequalities
8. The Coordinate Plane
Midterm review and Test
9. Decimals
10. Percent
11. Polynomials
12. Triangles
13. 2D Geometry
14. 3D Geometry
15. Analyzing Data
16. Probability and Stats
Final Review and Test
Note that you don't have to start at the beginning if your student doesn't need to. A little review is never a bad thing, though, right? Your student will select whichever unit they are working on by clicking the name, which makes in boldface. Then they will click the rocket to "launch" the lessons. Lessons are broken down by each daily lesson, a review, and then quizzes and tests.
This is a view of the dashboard, the main page of Unit 1, and the first lesson.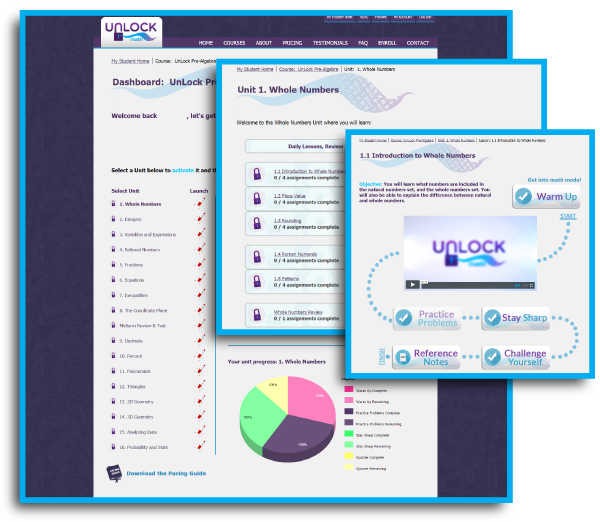 The Lessons begin with a warm-up exercise, which is optional but great for getting your child's brain ready for Math. This doesn't count toward the final grade. Lessons are taught in video format by Alesia. She is Canadian, by the way (I love your accent, Alesia!). Most of the videos aren't terribly lengthy, which is a good thing because my kids get bored to tears when they have to watch long teaching videos. After that is a set of practice problems. Note that students can only submit answers once, and once an assignment is submitted they cannot be changed.
Next is Stay Sharp. This is a set of 10 addition and subtraction problems, and as before, answers cannot be changed when they are submitted. Some of the problems are simple, and some a little more difficult, and students are to answer them as quickly as possible though there isn't a time limit. Challenge Yourself is a word problem that really makes you think. Students have unlimited time to complete the problem, though, so it's all good. Finally is the Reference Notes page. This is a handy note page that contains a review of everything learned that lesson and is in printable PDF format. These would be great to hole punch and keep in a binder for easy access.
Quizzes are typically done after every couple of lessons and are only a few problems. The Review questions are simply a review of the lesson. This is a great time to look over the Review Notes page. Students can quit and save their progress if they need to stop for any reason.
Tests, of course, are more lengthy. Once all answers are submitted, feedback is given immediately.
Students also have the ability to view their own progress report and a course grade book that shows their scores for each assignment that's been completed.
The Parent area is pretty basic. You can edit your billing information, assign students to courses, and change your password. The meat of UnLock Math is in the student area.
How We Used It
Issac worked on UnLock Pre-Algebra 3 days a week. I could pretty much leave him to his own devices unless he needed me to explain a question to him. Lessons took him anywhere from 30-45 minutes to complete. He really liked having the review pages to go over when he needed them.
I'm super impressed with this program. Alesia is fun to watch and is very engaging, and the lessons are thorough without being boring. If you're looking for a pre-algebra program, be sure to check out UnLock Pre-Algebra. For a limited time (at the time of posting) you can get $100 off an annual subscription be clicking here.
Be sure to click through and read the reviews from my fellow Crew Mates. We all received the same product. Thanks for stopping by!