I'm kind of a planner collector. I don't have as many as a few people that I know, but I have several. I like to try them out to see how they work for me. Sometimes they do, and sometimes they don't. It really depends on the features. I was recently sent The Ultimate Homeschool Planner – Yellow Cover to review from Apologia Educational Ministries. I knew that Apologia offered lots of homeschool products, but I didn't know about the planner!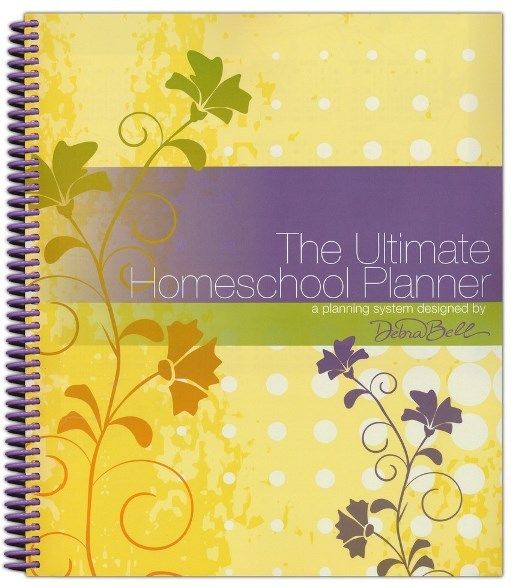 Apologia's mission is to help homeschoolers in their Christian walk. They attend many homeschool conferences around the country and are very well-known in the homeschool community. They offer a wide variety of products for grades K-12, as well as adults. Naturally, the Ultimate Homeschool Planner fits right in! The comb-bound planner allows you to plan your day and homeschool for 48 weeks for up to 6 children. The cover is a material that I think is vinyl (I'm not 100% sure, but that's what it feels like). The inside of the front and back covers have a handy pocket, so you could store some school documents here. There are yearly calendars in the front that go from 2015 through 2023.
There is a handy table of contents, too! The planner has a user guide that instructs you on how to use the planner. Apologia recommends spending 4 to 8 hours once a year to plan using the yearly planning grid, student goal setter, and family priorities. This is so you can set and prioritize each child's character and academic goals. Monthly planning sessions help you plan your priorities and commitments, and of course, this will likely change throughout the year. The monthly calendar pages are perfect for this. Weekly planning is recommended to take about half an hour, and there are weekly planning pages for this. There are also recommendations for Monday tutorials and Friday reviews. This is to help children with time management, weekly assignments, prayer, feedback, and accountability. There are pages with examples for each planning session, which is great for those like me who need to see what to do in order to do it. Following written instructions can be difficult for me without being able to visualize it.
The calendar planning pages are all blank, so you can start using the planner any time you want without having to worry about paying for something you may only use for 4 months. The bottoms of the pages are color-coded by monthly planning pages, pre-planning guides, student goals, weekly planning, records, and teaching tips. Weekly planning pages have sidebar boxes with spaces for filling in notes, supplies, and appointments. There are relevant quotes and scriptures peppered throughout the pages. In the back are pages for notes and year-end reviews, as well as an informative bibliography. You'll also find a handy planning guide for high school years, as well as a sample page to see how to implement it. The teaching tips cover how to raise an independent learner, motivate reluctant learners, different styles of learning, and thinking skills.
So, I like this planner pretty well! The cover material is great because you don't have to worry about it easily wearing out, and the pages feel nice. However, you can't use a Sharpie pen on them, because it will bleed through the pages. There is plenty of space for planning and record-keeping, and you can use this for both homeschool and personal use. It was fun to see the examples and sit down to plan our year. We are participating in a local homeschool co-op this year, so it's handy to be able to add that in as well. If you like to carry your planner around in your purse, however, this won't work unless you're carrying a tote bag or diaper bag as your purse. The planner is slightly larger than standard printer paper, so this is best left at home. That isn't really a downside, it all depends on your preferences. Overall, I'm happy with how the planner is set up and all of the tips included!
Be sure to read the reviews from my fellow Crew Mates. We all received the same planner but in different colors. Thanks for stopping by!