Mama loves meat. I love meatballs. I love chicken. I like beef sometimes, especially if it's steak. Usually, when I make meatballs, I use beef, but I had some ground turkey that I wanted to use up, so here we go! This recipe is SUPER simple to make. I like simple. Few things are simple nowadays.
1 pound ground turkey
2 tbs Bragg's Liquid Aminos
1 tbs Bragg's Nutritional Yeast
1 tbs Italian Seasoning
Oil for frying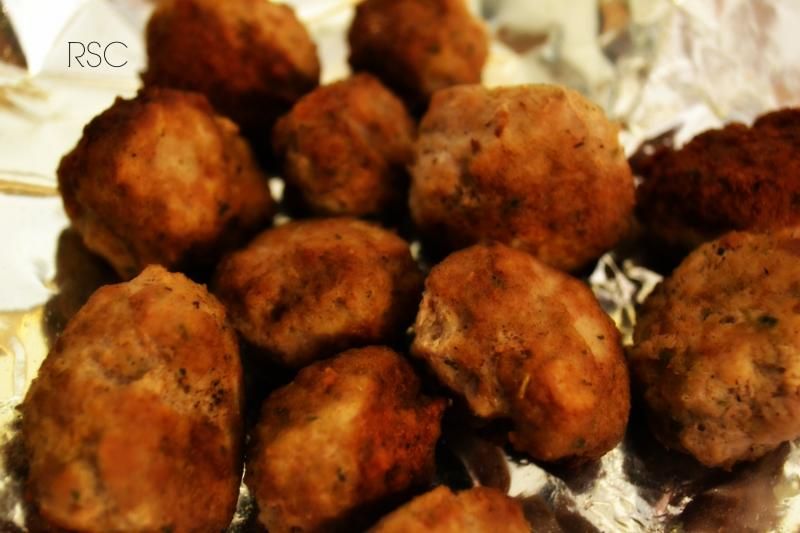 Heat your oil nice and hot in a skillet. Mix everything together in a bowl (except the oil, dur). Shape into however big meatballs you want, and fry them in batches, turning as needed until cooked through. You could also bake them in the oven in a mini muffin tin. Bake at 350 for 10 minutes, check for doneness, and cook longer if needed, checking every 5 minutes. You could make your own BBQ sauce using no-sugar ketchup,  mustard, celery salt and Truvia or stevia to taste. Make it into a meatball sandwich using a Joseph's pita, and add lots of non-starchy veggies, and you've got yourself an E if you bake them! Frying is going to add fat, so if you're gonna fry them, serve with non-starchy veggies, and you'll have an S. I like stir-fry ones with snap peas, broccoli, squash, etc.
 Turkey tends to be dry and likes to fall apart, but these held together nicely because of the liquid aminos.
This post is linked over at Stacy Makes Cents for Trim Healthy Tuesdays!