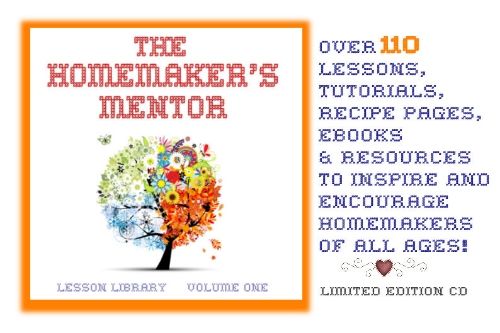 I don't know about y'all, but I can use all the help that I can get in the homemaking department. I didn't really learn many skills growing up and had to teach myself how do do almost everything. It was pretty difficult for me to find the motivation to really want to teach myself and do the work that I needed to do at home. I've been married for 15 years now, so I do have a few skills under my belt.
  Enter The Homemaker's Mentor. I've had a chance to review the Volume 1 CD collection of over 100 lessons in homemaking skills, as well as recipes, forms, and e-books. There is so much wonderful content is this CD, including:
Making and Apple Box Oven (on my to-do list)
Baking Bread Bowls (also on my list)
Bettina Stories (my absolute favorite)
Cast Iron Care
Herbal Home Remedies
Candy-Making
Sewing
and lots more. Seriously, it's fantastic! Today, though, I am going to discuss my 2 favorite sections  that are on the CD: Bettina Stories, and Herbal Home Remedies.
  Bettina Stories is just that: stories! This is a collection of 4 short stories about Bettina, a young, brand new bride who already knows how to prepare wonderful, fresh meals for her new husband, AND how to be economical doing it thanks to her own mother's example. The first story in the collection is called Bettina's Emergency Shelf. Here we read about Bettina and her husband Bob returning from their wedding trip. Bob suggests dinner at the hotel, but Bettina will hear nothing of it, and makes Bob a meal of creamed tuna on toast strips, canned peas with butter sauce, buttered rolls, strawberry preserves, and hot chocolate with marshmallows. All of these items were ready thanks to her Emergency Shelf!  
  Next we read about Bettina cooking her first real meal for Bob that includes a pan-broiled steak, new potatoes with cream sauce, pea & celery salad, baking powder biscuits, rhubarb sauce, and strawberry shortcake. After that, Bettina has her first guests to entertain and cook for. She wants to make Bob proud, and cooks a fine yet simple dinner consisting of boubons with tomato sauce, potatoes Anna, bakes stuffed green peppers, bread and butter, and cottage pudding with lemon sauce. Finally, Bettina and Bob are going to attend a Firelight Social, where everyone "reads" pictures by the fire.  I really love to read older stories like these, because I love the way the words are spoken. Each of these stories include the recipes mentioned, and all y'all know how much I love recipes!
  The Herbal Home Remedies section is full of great information on different herbs to use to make your very own remedies. You'll learn about the most useful herbs and what they're used for. You'll also learn to make infusions, decoctions, and poultices, as well as how to use vinegar and glycerin to make tinctures, and how to make ointments and salves. There are also lots of great, clear pictures so that you can actually SEE what you need to do to make these wonderful remedies for your family!
  In buying and storing your dried herbs, the important thing to remember is to store them in a dark, cool place away from the sunlight. The sun can leach medicinal properties from the herbs. Mason jars are great for storing herbs. If you're buying very big quantities, I suggest getting half-gallon jars. Each method of making tinctures  is of course different. If using vinegar, you soak your herb mixture in a jar and leave to sit in a cool dark place for several weeks. When using glycerin, you can simply mix everything in a Mason jar and keep it warm for several days in your Crock Pot before straining and storing. Be sure to remember to label your jars so that you remember what you've made!
  So, now I have 2 great giveaways to tell you about! First, head over 
here
 to the Homemaker's Mentor to enter their giveaway of over $400 in prizes! Next, I am giving away 2 copies of The Homemaker's Mentor CD Volume 1 collection! Please note that if you are out of the US, you will receive a zip file instead of a physical CD. Please use the Rafflecopter below to enter my giveaway. You can also read more reviews of this CD collection over at 
Bow of Bronze
. Good luck and thanks for visiting!
Here is my disclosure for this review. 🙂