I cannot believe that Thanksgiving Day is just 1 week away! Before we know it, Christmas will be here and gone, and we'll be into the year 2014. We have had such a blessed year in 2013, and so many things to be thankful for. Most importantly, the fact that Christ died for our sins. Our family was also blessed recently when my husband was promoted at work. He's such a hard worker and wonderful provider for our family. I am so blessed to be married to him. On a side note, today is our 16th wedding anniversary!
  Last year, we made a cute Thankful Tree out of construction paper, paper lunch bags, and foam hand shapes that my Mother-in-Love gave me. These are so easy to make, and you can really put them together however you want. I had the kids come up with things they were thankful for, and wrote one thing on each hand. I used the paper bags as tree branches, and 2 sheets of construction paper as the tree base.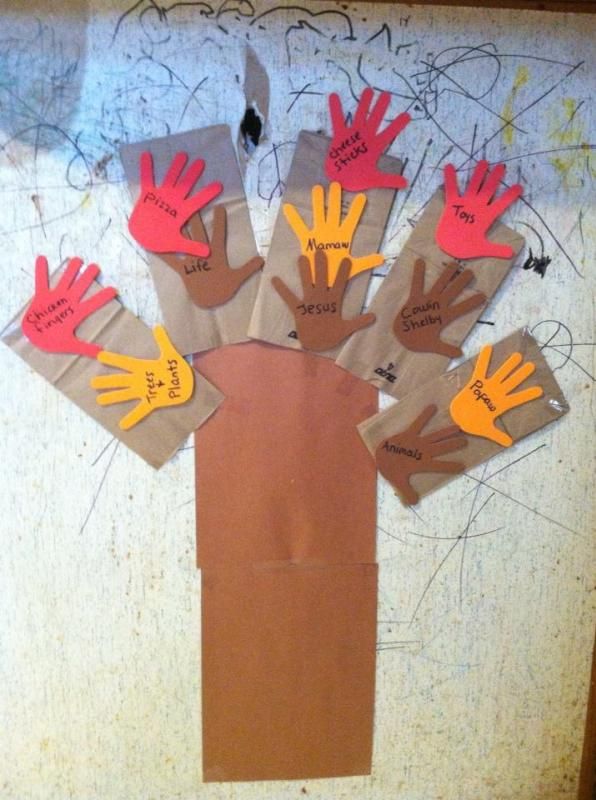 I hope you'll forgive the wall. When the kids were younger they drew on pretty much all of the walls in the living room.
  As for our Thanksgiving menu, I don't usually do anything elaborate. I do the usual turkey, mashed taters, gravy, green beans, rolls, and a dessert. This year's dessert will either be an Andes mint pie, or a harvest peach pie, both from Schwan's. I'm all for making things from scratch, but sometimes I just really want something already put together for me. I don't feel guilty for that at all. I usually start to cook in the morning some time, and then everything is ready for a late lunch. We have "leftovers" for dinner as well, because let's face it, even though a lot of the cooking is hands-off, I'm tired later on and don't feel like cooking anything else. Last year, I brined our turkey, and cut out the backbone so that it would roast a little quicker. Goodness, it was divine! I may brine again this year, but I need to find a bag big enough for the turkey to fit in.  I would sometimes love to cook something a little more fancy, but my family is pretty vanilla, so I reckon I'll just stick to the basics.
  So, what are you having for Thanksgiving lunch/dinner this year? Are you making anything that more out of the ordinary than you normally would?