As a busy wife and mom to 4 children, that I, of course, homeschool, I am always on the lookout for ways to get more out of my time. Let's face it, time is short, and it seems there's never enough of it. I haven't used physical planners very much in recent years, but when I heard about The 7 Minute Life™ Daily Planner from The 7 Minute Life, I know I wanted to give it a try. The planner costs $24.95 at the time of posting, and is for adults. The book is 7.3″ x 8.5," so depending on your purse size,  you may or may not be able to carry it around with you.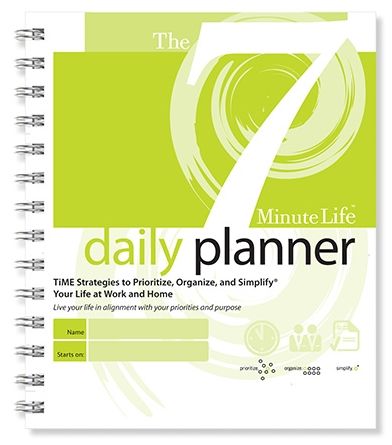 I've never seen a planner quite like this one. Most planners that I've seen are pre-dated, and have some pages for your contacts, along with a few slots for you to write your appointments. Allyson Lewis originally created this planner for herself  about 10 years ago. The goal of The 7 Minute Life Daily Planner is a time management tool to help you prioritize, organize, and simplify your life goals and daily life.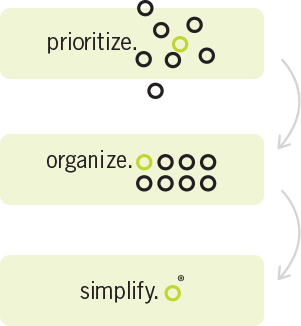 The furs part of the planner has several pages that'll tell you how it works. It's pretty important to the usage of the planner to not skip over these. Otherwise, it'll just be like any other planner, and you won't get anything out of it. There are 3 "Ideas":
Prioritizing Your Top 10 Values
Discovering Your Purpose
Establishing Your 90-Day Goals
There are also 10 Micro-Actions, or small tiny changes that you can work into your daily life:
Unfinished Tasks
Mental Clutter
Home Repair
Life Connections
Annual Projects and Tasks
12 Month Calendar
Meeting Planner
Notes Pages
Annual Exercise Progress Report
Daily Progress Report
You'll also see Your Daily Top Priority To-Do List, otherwise known as 5 before 11. The neat thing about this planner is that it can work for you whether or not you work outside the home. You can just skip over the work-related sections, or make them work for you in a different way (or if you have a home-based business, that'd work, too!). There are quite a few list-making pages for you to jot down your life and financial goals, priorities, unfinished work tasks, home repair, and life connections. The calendar pages are undated, so you can start using your planner as soon as you get it. You'll also find 90-day calendar worksheets that let you plan 90 days at a time. There are lots of Daily Progress Report pages. These are SO super-cool! Look!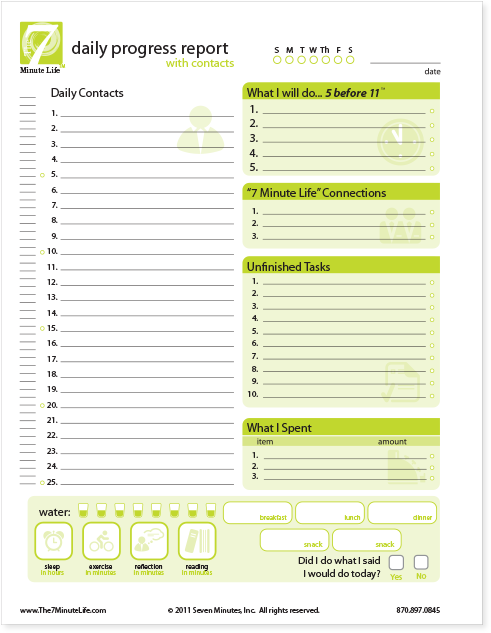 There are spaces for your daily contacts, your "5 before 11," unfinished tasks, what you spent, even keeping track of your water intake! As you can see, this is a planner that offers a lot of accountability options for you to keep up with the goals that you make when you first receive the planner.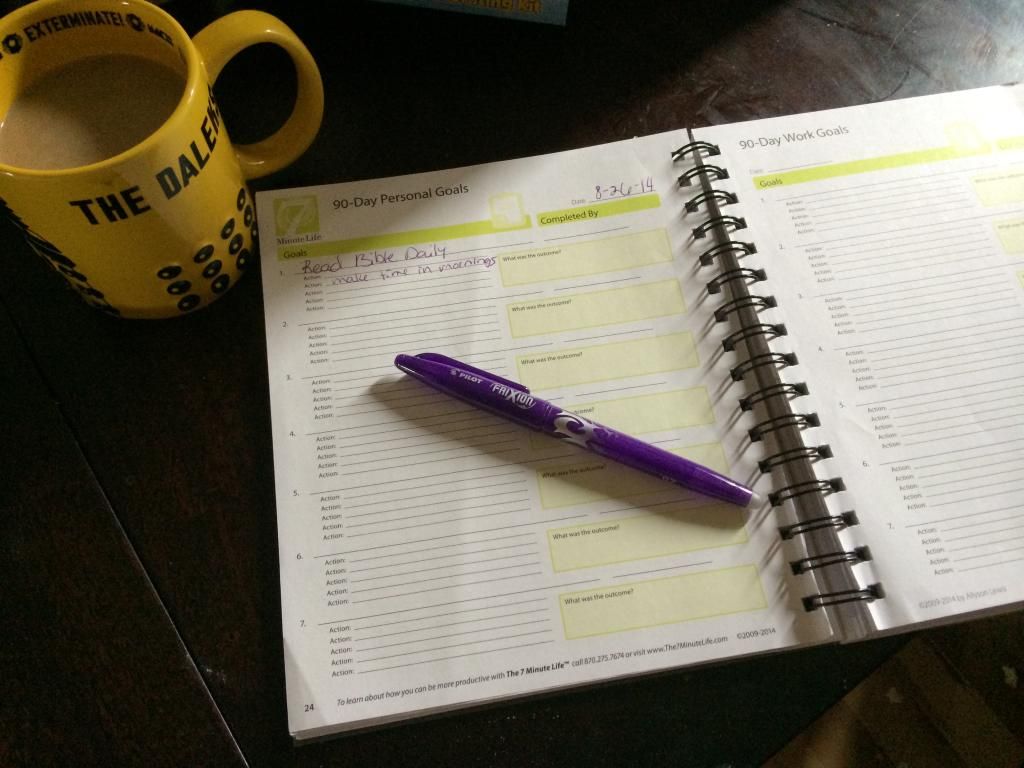 Here I've just started making my own 90-day personal goals. This planner really makes you sit and think about what is most important to you in your life. Is it God? Family? Work? Hobbies? This is going to help you prioritize your life.
When I received my planner in the mail, I basically sat down and read through everything that explains how the planner works. Here you can see some short videos explaining the steps to putting your planner to good use. This is very important, and I can't stress enough how important it is to read through these first pages. If you don't, you'll just get overwhelmed, and you'll not get anything out of your planner. What I did was read a section at a time, then find where I needed to go in the book and complete that section.  There are some examples in the planner, just in case you're like me and lack creativity and thinking skills and need help coming up with ideas. If you can make time to sit and think about your goals and plans and write them down,  you can make The 7 Minute Life™ Daily Planner work for you.
I really love how the planner made me sit down and think about my life, and what my priorities are, and what they maybe should be instead. I also like that it's undated. I don't mind dated planners, but darn it, what if you want to be a rebel and buy a planner in the middle of the year or something? Well, this planner lets you be a rebel, at least in that area. It's really pretty great for making you sit and think about what you want to accomplish, then write it down.
You can follow along with The 7 Minute Life at:
Facebook – https://www.facebook.com/The7MinuteLife
Twitter – https://twitter.com/allyson7minutes
Pinterest – http://www.pinterest.com/the7minutelife/
Google+ – https://plus.google.com/+AllysonLewis7/posts
You Tube – https://www.youtube.com/user/AllysonLewis
Be sure to click the upper graphic below to read reviews from my fellow Crew Mates. We all received the same product for tho review. Thanks for stopping by!