For me, Science is similar to Math, in that there is
so
much that we can and need to learn. Sometimes, as a homeschool mom, it can be difficult to know where to start with something, especially if it's a subject you are not "good at" or just don't feel comfortable teaching. When we were given the opportunity to review the
e-Science Learning Program
from
Supercharged Science
, I was pretty ecstatic. I was a little familiar with Supercharged Science already, and knew how in-depth it was, so I was glad to be able to have a go with it finally. This program is for grades K-12, and is $57 per month. There is also an option for grades K-8 available for $37 per month.
The e-Science Learning Program is an online homeschool curriculum that began when Aurora Lipper saw the dull and boring ways that students were taught Science. She was an instructor at Cal Poly State University, and was creating her own Science lessons that were based on her college lectures. She taught her first class at a local elementary school nearby, and it was a hit! Branching out to online lessons has given Aurora a wider range of audience, and gives more students access to lots of fun and informative Science lessons.
When you first begin your membership with Supercharged Science, you are given access to 2 Units. There are 20 Units total, plus one that is an overview of the program. Each Unit has several lessons within itself.  Having access to fewer Units lessens the feeling of being overwhelmed. You can, however, email and request access to another Unit that you'd like to see. Here is the list of topics that are covered:
Unit 1: Mechanics
Unit 2: Motion
Unit 3: Matter
Unit 4: Energy 1
Unit 5: Energy 2
Unit 6: Sound
Unit 7: Astrophysics
Unit 8: Chemistry
Unit 9: Light
Unit 10: Electricity
Unit 11: Magnetism
Unit 12: Alternative Energy
Unit 13: Thermodynamics
Unit 14: Electronics
Unit 15: Chemistry 2
Unit 16: Life Science 1
Unit 17: Life Science 2
Unit 18: Biology 1
Unit 19: Biology 2
Unit 20: Earth Science
The program is also broken down and organized by grade level, which I think is super-cool, and makes it a little easier for parents to teach according to each child's needs. You do not have to use the program this way, but it's nice to have an idea.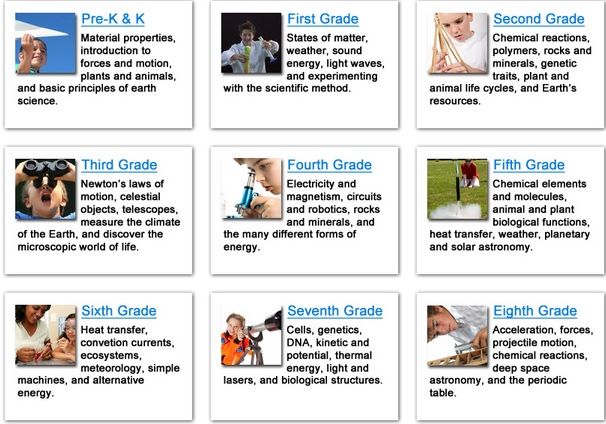 Each picture is clickable on the website, and takes you to the subjects discussed in that grade. This way, you can teach Science to your children by grade, or you can just teach everyone together according to the topic you want to discuss.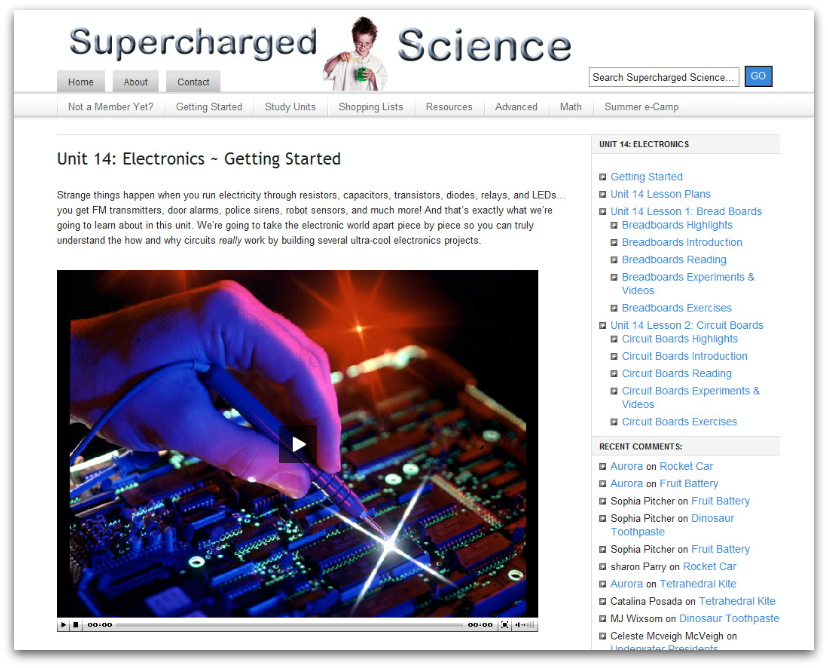 Earlier, I mentioned that there are lessons within the Units. Above is a picture of Unit 14, which is Electronics. If you look on the right side of the picture, there is a list of things covered for this Unit. You can actually download each Unit, and these downloads are in PDF form, so you can print them and have them bound, to have a book feel. The downloads are a decent size, but not overwhelming. It includes every lesson in the Unit…in the case of Electronics, there are 4 lessons. It also includes a list of materials that you need to complete the lessons and experiments, vocabulary words, reviews with answer keys, and textbook reading. With the textbook reading, you or your child can read the material aloud and learn even more without having to buy extra books…it's all included in the PDF. It's just like reading from a textbook. I like the review questions that are at the end of the Unit download, and I really love that there is an answer key. There may some books recommended in a Unit, but they aren't required to complete the lessons. What I love the most, is that you can actually download a shopping list for each Unit. Aurora has done all of the work for you!  There are even detailed instructions on how to make and keep your own scientific journal. We haven't done this as of yet, but I think it's a wonderful idea and plan to start one for us soon.
How We Used It
When we first began using the e-Science Program, we started at the very beginning with Unit 1:  Mechanics. Looking at each lesson, I decided to hook the laptop up to our living room TV, and that way I could read the lessons aloud, or have the kids read some. Then we watched the videos, which was really cool when I expended them to full-screen (you can do this on your computer as well), and did several experiments (NOT in the living room, though, The TV is visible from the dining room, so we worked in there. I forgot to get pictures of those, though. Boo). The kids would have loved to do them all in one day, but no. I'm not that motivated. Once the kids saw all of the videos that were available, they asked to just watch the videos on their own, and not necessarily while we were actually having school time. Ethan, who is 9, especially loves to sit down and watch Aurora's videos over and over again. Doing this, he found an experiment that he really wanted to try, and of course he had to tell his brothers and sister about it, and of course once they saw it they were all "WOO YEAH LET'S DO IT!"  They wanted to make glowing slime. Yay. This is actually a banned item in our house, but I figured I'd be a cool mama for a change, so we did it. We didn't make it glowing, though. We just used food coloring, instead. At least this time I remembered to get my camera out! Woot!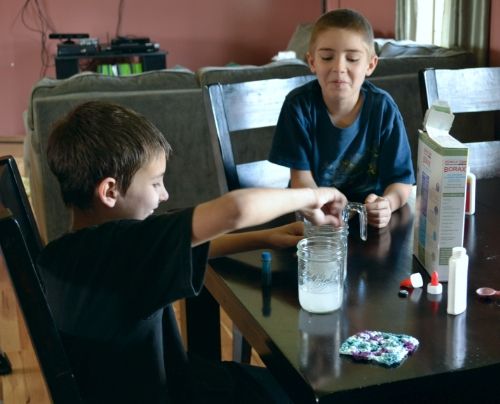 Issac went first. Here he's just started mixing some ingredients to get things going.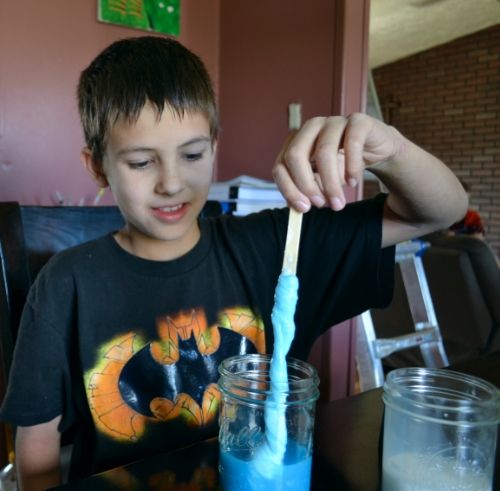 He added everything together…it's coming along! Yeah! Everyone was pretty excited at this point.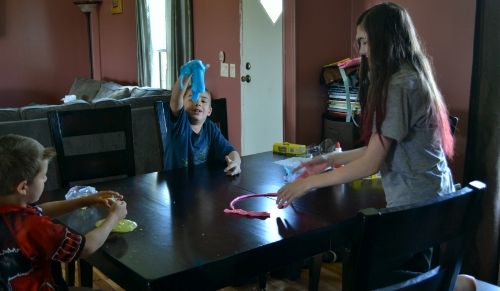 After everyone finished making their slime. By this time Issac was finished playing with his slime and had moved on. You can see that everyone chose their own slime color. You may also be able to see that each child's slime has a bit different consistency; some was looser and stickier, others were firmer and less sticky and easier to shape. As Issac likes to say, "Physics is happening!"
What We Think
We've really enjoyed using the e-Science Program from Supercharged Science. There is so much instruction from Aurora, that the program is easy to use. Of course, the kids enjoyed the videos and experiments the most. I love the fact that you don't need a background in Science to use this…Aurora does ALL of the teaching for you.  There is no chat, so the website is a very safe place. Aurora's videos are very fun and engaging to watch. She is very detailed with the experiments as they're shown. You can even ask questions on the website! Since the lessons are self-guided, you can use this program however you want, at whatever pace you want. I also really like the extra information from the textbook readings, as well as the quizzes/reviews. This is a secular curriculum, so if you want to teach from a Biblical standpoint, you'd need to add in your own choices there, but otherwise I don't really see a need  to add anything else in. The only thing that would likely deter me from signing up permanently is the cost. $57 a month can be hard to swing for many families, and I probably wouldn't pay that much. I would be more likely to go the K-8 route for $37 a month. However, Aurora has graciously offered my readers a chance to use the e-Science Program for just $1! This is a wonderful deal and I'd definitely take advantage of that. If you decide to do so, please review the cancellation policy here.
This was a very fun review. Be sure to click below to read reviews from my fellow Crew Mates. There will be 100 of us total posting our views, and we all have different experiences and used the program in different ways. Thanks for stopping by!