Are you a parent who's brand new to homeschooling? Maybe you're a seasoned homeschooler and are looking for a fresh perspective? I love getting new ideas for my homeschool. Maybe a new way to look at Math, or ideas for school games! I was chosen to review the Successful Homeschooling Made Easy Course from Successful Homeschooling Made Easy. This is geared towards homeschooling moms, obviously. Plus, it's a course, so it's like having your own bit of schoolwork. We are always learning, right?! Stephanie Walmsley is a veteran homeschooling mom herself, and who better to offer a course on homeschooling than someone who's been there?!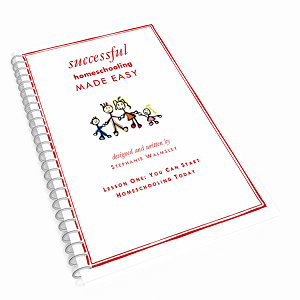 Successful Homeschooling Made Easy is a 26 week-long online course. It's designed to be worked one course per week, this way you have time to read the content, take notes, and then either set up your homeschool, or make any desired changes to what you're doing already. Sometimes it's nice to be able to go at your own pace instead of someone else's. With this online course, you can do just that. The lessons are delivered in PDF format, so you can print them, or save them to your computer. There are also a few bonuses that are peppered between some of the lessons. One lesson is emailed to you per week, so that you aren't reading ahead through everything and overwhelming yourself.
The first few lessons cover topics such as making an 8 week schedule (this may sound daunting at first, but once you see the lesson you realize that it's not at all), teaching Math, homeschooling a formerly public-schooled child, and fireproofing your homeschool. Each new lesson builds on the previous week's lesson, so reading and implementing them in order is the best way to go, really. So far, lessons aren't very lengthy, so it'll be easy to carve out a few minutes per day to read each one, take any notes you want, and figure out how you want to run your homeschool day.
The first lesson covers schedule-making. I think most people have some sort of schedule, whether it be a set in stone schedule, or a more lax, fluid schedule. Making even a loose schedule will further help you to shape your days, and see what you can and will accomplish with homeschooling. Each week you will add a little something more to your schedule. By adding gradually, you are less likely to feel overwhelmed in your day-to-day life. This is why it's important to read the lessons in order and work a little at a time. Only you know what will work for your family, so you can personalize your schedule, and of course tweak it as needed. If you're planning to use the note-taking boxes that are in each lesson, you'll want to print the pages out and have them in a binder.
I enjoyed reading through the lessons that I've received so far. Being that this Fall will mark my 10th year of homeschooling, I am definitely not opposed to finding things to make my homeschool and daily life easier. We are wrapping up our homeschooling year soon, so I'm not planning to make any changes to our schedule just yet. However, with my daughter starting high school in the Fall, I will definitely be revisiting my lessons to see what I can do to make our lives easier. It was nice to have something to read for myself, as that doesn't happen very often. Whether you're new to homeschooling or have been at it a while, you will definitely see a benefit to Successful Homeschooling Made Easy!
Be sure to read the Successful Homeschooling Made Easy from my fellow Crew Mates. Thanks for stopping by today!