We have a lot of Spanish-speaking people in our area, moreso than any other foreign language, so I was pretty stoked about Spanish For You! This is a theme-based curriculum for grades 3-8, and I love that I could use this with most of my kids (Ethan is 2nd grade so I did still work it in some with him). As of right now, there are 2 packages available: Estaciones (Seasons) and Fiestas (Celebrations). I chose to review Estaciones since my kids really like weather-related things. Spanish For You! is designed to be worked 3 or 4 days a week, and each theme is about a year's worth of instruction. You can either purchase the entire curriculum at once for $64.95, or purchase each grade level for  $39.95. From the website:
ALL Spanish for You! packages come complete with:
soft cover book or e-book (currently only our trial pkgs.)

24-30 week lesson guide for the grades you need (24 weeks for G5-6 & 7-8, 30 weeks for G3-4) (PDF download)
self-checking worksheets (PDF download)

audio files of entire book (includes bonus audio of native speaker of entire book) (MP3 download)

flashcard/activity pictures (PDF download)

*Teacher lesson plans are NOT included. These need to be purchased separately. ($12.95)
   I really liked the audio files. I think I did a pretty good job with my pronunciations (I took Spanish in High School), but it was nice to have someone pronounce the works perfectly. One audio file is from a native Spanish speaker, and the other is the author of the curriculum, and both are very clear and easy to understand. Our Spanish teacher always made fun of us in class because we spoke Spanish with a Southern accent. :p Here you can view sample pages of Estaciones. 
  For my initial ease of use, I printed off everything and put the sheets in a 3 ring binder. This helps me to be less overwhelmed with things. I love how easy Spanish For You! is to use. The lesson plans are clearly laid out and tell you exactly what you need to do and teach each day, so there's not much in the way of planning for you to do. You don't need to have experience in Spanish in order to teach Spanish For You! so don't be afraid you can't do it. We did about 30 minutes of work per day. You could certainly do more, but I'm a pretty laid back teacher for the most part. 
  As I said earlier, Spanish For You! is for grades 3-8, and it's broken down into grades 3/4, 5/6, 7/8, so there was something for almost everyone here.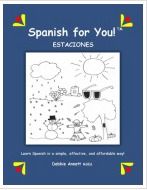 Estaciones is Spanish for Seasons, which is what the theme is, and what your child will learn. It covers Days of the Week, Months of the Year, Weather-related phrases
(¿Qué tiempo hace? 
Hace frio.),
etc.
There are several sheets of commonly used words and phrases as well, which I really like. There are also lots of fun games and activity ideas in the curriculum.
  For our use of Spanish For You!, I did as much as I could reading aloud, listening to audio files, etc. Then everyone broke up to themselves to do their worksheets. We were able to do the games together. In doing the reading aloud and audio files together, I was even able to include Lucas in the fun, and he even picked up a little Spanish as well, which I was very impressed with! Spanish For You! is a fun, engaging curriculum that I can highly recommend.