I LOVE when I get to try products out for myself. It's so much fun to have some goodies for myself. For the last month or so, I've had the pleasure of using Mystie Winckler's Simplified Pantry eBooks. I was given Simplified Dinners, Simplified Dinners Gluten Free/Dairy Free, and Paperless Home Organization. For the purpose of this review, I'm mostly going to talk about Simplified Dinners Gluten Free/Dairy Free.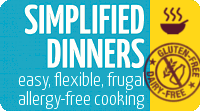 About a year ago, I was diagnosed with a ridiculous amount of food allergies, including wheat and dairy. I do not have Celiac Disease, I am just allergic to wheat (yes, those are 2 different things entirely). When you're used to having these items on a regular basis, it can be hard to find substitutes that are tasty and not loaded with carbohydrates the way that most gluten replacements are, and dairy seems to be in almost everything that is premade, which is very frustrating. For $12.99,  Simplified Dinners GFDF gives you a list of ingredients that potentially contain both gluten and dairy, a master pantry list, LOADS of recipes with different variations, a menu planning chart, and GF/DF desserts! Recipes include:
Skillet Cutlets with Pan Sauce (one of my favorites, and has MANY pan sauce ideas!)

Starchy Sides
And so many more!

The book is a bit short page-wise compared to most cookbooks I've seen at 33 pages, but each page is PACKED with the recipes and the variations included. For example, on the Side Dish Starches recipe page, there are 11 different recipes for Breads, Vegetables, Rice, and Potatoes. At the end of the book is a sample Winter menu plan, along with the blank menu plan. I've been following the Trim Healthy Mama plan for a couple of months, so any recipes I made for myself I tweaked as needed. :)I love the recipe variations available. For example, the Bean Pots page has both stovetop and slow cooker instructions, then you pick which variation you want to use! There is a good variety for each section, but it's not enough to overwhelm you. I like not being overwhelmed, I have enough to worry about without having my cookbooks making me feel like a crazy person.
 The master pantry list highlights items that you should double-check in the store to be sure they're gluten and dairy free. This is very important, especially if your allergies are bad, or you have Celiac. I printed this sheet out to hang on my fridge. I love hanging pretty and handy things on my fridge. 😀
Simplified Dinners is similar to the GFDF version, but the recipes are not all the same, of course. You still get the master pantry list and menu plans, though. It is also $12.99
Paperless Home Organization gives you easy tips and tricks on how to make a digital homemaking binder! It is $3.99 and available in PDF AND Kindle format I have thoroughly enjoyed using the Simplified Pantry and Paperless Home Organization products. I feel they've been a blessing to my home life. As I've mentioned before, I'm a cookbook fiend, so I'm all about trying new ones! Thank you for your visit!
Guess what? There's a coupon code good through June 3rd for a whopping 30% off any of these ebooks! Enter code TOS2013 to get your discount!