A couple of months ago, I had the wonderful opportunity to review one of See the Light's awesome DVD projects with Rachelle. I plan to purchase more DVD projects in the future to use in our homeschool, because it was fun to do and very thorough. Another great thing is that the lessons are broken down into about 30-minute increments.
  The See the Light DVD Boxed Set is a set of 9 art instructional DVDs that teaches a wide range of skills, including:
The Basics
Shape and Space
Value and Color
Color Blending Techniques
Proportions for Composition
Texture and Form
Perspective for the Landscape
Balancing and Foreshortening
The Portrait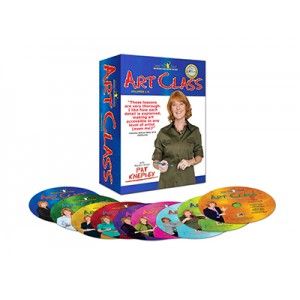 This set retails for $99.99, which is about $11 per DVD. Not bad at all! The instructor, Pat Knepley, has such a sweet and kind voice, and I think she would be a great real-life art teacher! What I mean by that, is that if I knew her in person, I would totally have her as an art instructor for my children. See the Light is giving away a boxed set to one of you lucky readers! Simply use the Rafflecopter below to enter. Good luck!