ScienceandMath.com
is an award-winning video series that will teach your child how to master Math in grades 5th all the way through college.(4th grade is currently in the works and will be available in the future.) I'll admit that teaching Math is a bit daunting for me. I had trouble with the subject in school, especially in the higher grades. I was a bit nervous about teaching Math to my older children.

  For the purpose of this review, I was given
Mastering 5th Grade Math-Volume 1- Essentials of Fractions Video Course + Worksheets
for this review. Volume 1 specifically deals with fractions. I was most interested in this because Issac is in 5th grade, and I felt like I needed some help to be able to teach him how to work with fractions.  It's been a while since I was in 5th grade, and about the only thing I remembered how to do was to simplify fractions. Not a good thing, but thankfully we had help! We hadn't actually started working with fractions before starting the DVD lessons. This course is geared for those in grades 4-6, depending of course on your child's learning level. You can download the course for $14.99, or purchase the DVD for $15.99.  I myself prefer the DVD because it's easy to watch in our Blu-Ray player. ScienceandMath.com also offers a DVD of Science experiments.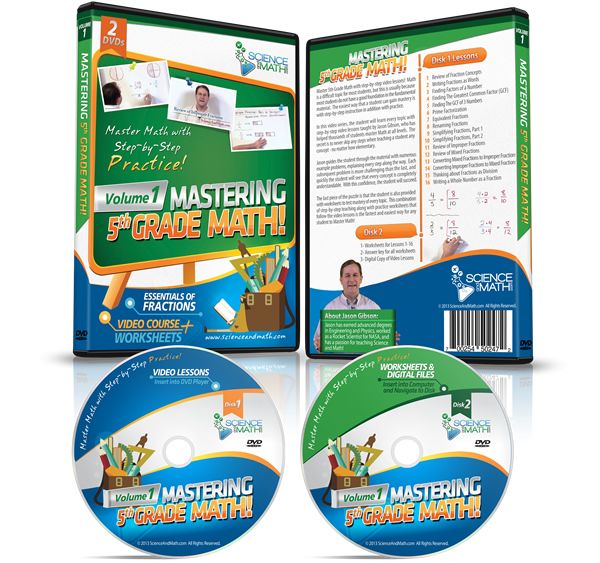 The 5th grade Math Volume 1 case includes 2 discs: the first is the DVD with all of the video lessons, and the 2nd is a CDROM that includes worksheets for each lesson, plus the answer keys. The Volume 1 DVD contains 16 lessons that are presented in a step-by-step manner, with nothing left out. The videos are presented by Jason Gibson in a clear and precise manner. He gives several problem examples for each lesson, so that you can see how to work the problems clearly. The first lesson is considered a review of fractions, and is perfect for you if your child has never worked fractions before. Jason makes learning the lessons easy by going over the same concept several times in the lesson, and using different colored markers on the white board for each different problem.  Here is a list of the lessons covered in the
Volume 1 DVD
:
Lesson 1: Review of Fraction Concepts
Lesson 2: Writing Fractions as Words
Lesson 3: Finding Factors of Numbers
Lesson 4: Finding the Greatest Common Factor
Lesson 5: Finding the GCF of 3 Numbers
Lesson 6: Prime Factorization
Lesson 7: Equivalent Fractions
Lesson 8: Renaming Fractions
Lesson 9: Simplifying Fractions, Part 1
Lesson 10: Simplifying Fractions, Part 2
Lesson 11: Review of Improper Fractions
Lesson 12: Review of Mixed Fractions
Lesson 13: Writing Mixed Fractions as Improper Fractions
Lesson 14: Writing Improper Fractions as Mixed Fractions
Lesson 15: Thinking of Fractions as Division
Lesson 16: Writing Whole Numbers as Fractions
Here is a preview of lesson 1, so you can see how the lessons are given, and here are the corresponding worksheets.
So far, we are about half-way though the DVD lessons. The first thing that I always do is print out the worksheets for the lesson we are doing. There are several worksheets per lesson. At first, I was having Issac do all worksheets immediately after we watched the lesson, but I quickly learned that was too much for him. So, what we do now is watch the lesson, then he does 1 worksheet immediately after, plus one worksheet each day after until he has completed every worksheet for each lesson. Then we move onto the next lesson. This gives him enough time to learn each concept before moving on. If we need to review it a little more, we just watch the lesson again as many times as we want. Occasionally, I did help Issac work the problems on the worksheet, but generally after working the first sheet's problems, he was good to go. Issac actually asked to watch the DVD lessons and work his Math every day. I can't really remember a time before that this has happened.  The great thing about this Math course is that you can watch the lessons anywhere you have a DVD player. We watched ours on the TV with our Blu-Ray player, but you could watch these on the go as long as you have something that will play the DVD.
I am really impressed with ScienceandMath.com. The DVDs are very affordable at $15.99 each, and with so many lesson included. This is something that you could easily use for more than one child, which makes the product even more cost effective if you have more than one child in your family. Having Issac ask me to do his work is like a double-bonus. I plan on purchasing more of the 5th grade Math DVDs once we are close to finishing this one. You will also find ScienceandMath.com on Facebook!
Be sure to click below to read reviews from my fellow Crew Members. Some reviewed the save DVD as we did, and others reviewed other Math DVDs or the Science DVD. Thanks for stopping by!