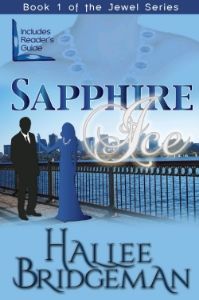 I'm sure by now y'all know how much I love Hallee Bridgeman's books. I have the great pleasure of being on her Street Team, which is a group of ladies that help to promote her and her splendiferous books. Hallee has written several books, and also blogs about her cooking and homemaking adventures at Hallee the Homemaker.
  Sapphire Ice tells the story of Rabin Bartlett, the oldest of 3 sisters who all had a horrifying childhood and had to battle to pretty much stay alive. Robin had a pretty low opinion of men in general, and no use for God in her life.
  Tony Viscolli was a homeless teenager, who at 17, walked into a downtown church with the intentions of robbing it. Instead, he found the most precious prize: Christ in his heart. Tony purchases the restaurant where Robin works, and, well, I can't give away the story. You'll just have to read it for yourself!
  Can you guess what the birthstone is for the month of September? You guessed it…Sapphire! To celebrate, Sapphire Ice for Kindle is on sale for just .99 cents for the WHOLE month! Guess what else? I'm giving away a copy of Sapphire Ice for Kindle to one of you lucky folks! Use the Rafflecopter below to enter. Good luck!
Disclaimer: This post contains affiliate links, which help our family a little. Thank you for your support!