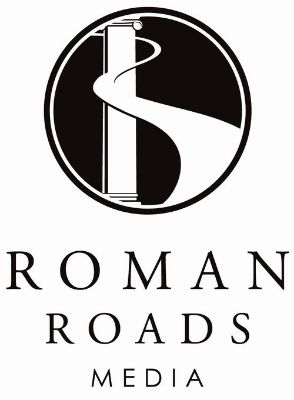 For years I've had fellow homeschooling friends who taught their children Latin. Frankly, I never understood the point, because to me Latin isn't a widely used language. Especially in my part of the country. I just wanted to do the basics of school and be done. As the kiddos get older, I find myself wanting them to learn and do more than the basics. So, I figured we'd give Latin a whirl. There are quite a few Latin curriculum choices out there, and I honestly had no idea where to start.  When I asked my fellow Crew Mates who had used Latin in their homeschool what curriculum they had chosen and why, I discovered that Roman Roads Media was an upcoming vendor. I was blessed to have a chance to review Visual Latin I. Geared towards grades 4th and up, the DVD sells for $85 at the time of posting. There is also a download version available that is $70 at the time of posting. I received the download version for this review.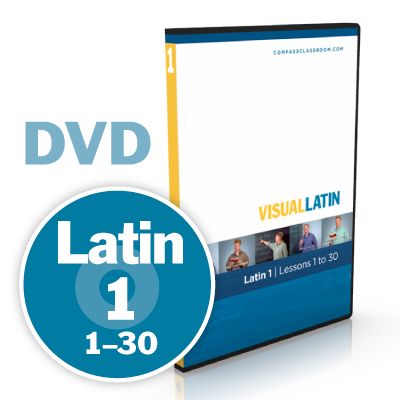 I am a total Latin newbie (I am not counting the little bit of Latin I sang in the choir when I was a practicing Catholic, because I had no clue what I was singing), so I wanted to start from the beginning. Visual Latin I includes 30 lessons, plus accompanying worksheets for each lesson, along with worksheet answers. Each lesson is taught by Dwane Thomas, who struggled with grammar in school, and had a hard time excelling in it until he learned Latin and other languages. He's a pretty fun teacher, so that makes the lessons a bit lighthearted and fun. Listen to Dwane as he explains why you should learn Latin:

Lessons are broken down into 3 sections: Part A. Grammar-explains the concept for each lesson, Part B. Sentences-uses a chalkboard to show the concept, and Part C. Reading-apply the concept you've learned, along with vocabulary. The reading portion actually comes from a reader book that was made just for this course. It starts off on an easy note, and ends with portions of the New Testament. The nice thing is that since this isn't an in-person course, you can go as fast or slow as you want, and you can watch the lesson as many times as it takes. The worksheets are also broken down by each section listed above, and are a nice bonus to reiterate the video lessons. Each lesson has between 3-11 accompanying worksheets. The goal of the lessons is not just  for you to be able to read in Latin, but to understand what the concept of the language is, just as if you were learning any other language. Each video  is fairly short, being generally less than 10 minutes, and each lesson is 3 videos, once of each section. Since we received the download version, I needed to download each lesson separately, which was fairly time-consuming. We aren't lucky enough to have cable internet (we have DSL), so I only did a few at a time so as not to bog down my internet too much (the kids do that enough with their gaming).
My initial intention for Visual Latin for the review was to try it out with the 2 oldest (13 and 11), and of course myself. I think because of the time frame (Summer break) the kids were not interested at all, and getting them to watch the videos was way more difficult. Since I knew that I wanted to learn Latin as well, I just watched and did the lessons myself. Admittedly, I am a slow learner. I always have been for as long as I can remember. I knew that it would take me more time than most people to go through the lessons. I am a kinesthetic learner, so I have to learn by doing, not just reading or listening. It also usually takes me a while to comprehend a new concept. You could, in theory, do 1 lesson per week, alternating watching videos with completing worksheets. It took me a couple of weeks to do each lesson, because I really needed to extra time. I definitely like having the worksheets; they're a quick way to review what's covered in the video lessons, and the answer sheets are so handy to have. I like to do them several times to be sure I'm getting each concept that's taught. It's like testing and grading myself whenever I want!
I have really enjoyed my time using Visual Latin I. The video lessons are fun and engaging, and since they're short, they aren't overwhelming at all. Since we have started school back this week, the kids have shown interest in the program, so we'll be incorporating Visual Latin I into our school day for sure. I love that we can take as much time as we need, and there's no pressure to complete the work in a certain time frame. The kids like to learn different languages so that they can go around talking in their "secret language." Issac hasn't been working on a language for a while, so I will most likely work with him as a team effort. The lessons are fun so I don't mind redoing the ones I've completed. Learning a new language makes me feel good about myself, and it's nice to give my brain a workout sometimes (you know, besides the kids driving me crazy?).
FYI: Roman Roads Media has updated the resources for Visual Latin I to include a Teacher's Guide with Scope and Sequence, to help you make the most out of the program., as well as lesson quizzes.
Be sure to click the graphic below to read reviews from my fellow Crew Mates. There was a variety of products from Roman Roads Media that were used for this review. Thanks for stopping by!