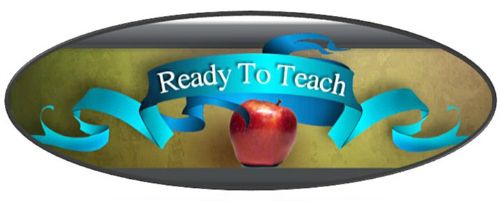 Morpheme – any of the minimal grammatical units of a language, each constituting a word or meaningful part of a word, that cannot be divided into smaller independent grammatical parts, as the, write, or the -ed of waited.
Did you know what a morpheme was before I defined it for you? Before using the product I am reviewing for you today, I had never actually heard the word 'morpheme' before, and had to look it up myself. At first, I didn't really understand the meaning of it, but once we received Greek Morphemes Lessons (It's  NOT Greek to Me!) from Ready to Teach, the definition sort of fell into place for me. This product and company are both new to me, as I have never heard of either. I was pretty stoked to get to use it, though, because as I get older, I am finding that I have a new love for learning. I also love finding products that I feel will really benefit my kids not just now, but in the long run as well. Rach, 13, was the main user of the program, but I dabbled with it a bit as well.
The author of the program, Dr. Alene H. Harris, previously taught secondary language arts and life science in Nashville, TN for 16 years. I'd say she definitely has the background to make a program like this one!
Greek Morphemes Lessons (It's  NOT Greek to Me!) is a vocabulary program that is based on more than 200 Greek roots, prefixes, and suffixes. If you think about it, the English language mostly comes from Greek and Latin roots. This program is a neat way to learn where words come from.
The package that I received contained an Instructor's Manual, Student Book, and a CD that includes lessons, self-reviews, and transparencies, if you'll be using an overhead projector. I will note that as of March 2015, a USB flash drive is replacing the CD, and we did also receive a flash drive in our package. I think this is great because a lot of new laptops no longer have a CD drive, but I'm pretty sure that they all have at least 1 USB port. The files are PowerPoint files, but will also work with KeyNote on a Mac, which is what we used. I'm pretty new to KeyNote, and so I think it works a little differently than PowerPoint. You can't just view each slide to do the lessons, because some of the text will be sort of wonky. However, if you play it as a slideshow instead, it will work properly. I don't know if this is normal for PowerPoint files  that are used in KeyNote, but I wanted to mention it. The program can be used by the student independently, with the parent teaching the lessons as a guide, or you could even use this in a co-op setting!
First, let's talk about the Instructor Manual a bit. The program is twelve lessons long, but they are quite lengthy and are not worked one per day. If you follow the lesson plan given, you should be able to complete all 12 lessons in 14-16 weeks. The Instructor's Manual tells you exactly how to use your materials, which I love. One less thing for me to have to think about! There are ideas for a bulletin board, pages on lessons and answer keys, transparency masters, tests and answer keys, and premade study cards. I really love the recommended lesson plan. I say plan because it's only shown for the first lesson, but this is easily adaptable for all 12 lessons, so you can just follow the example. The lesson plan is broken down into a five day period. There is also a handy chart for the lesson plan, but I recommend reading the actual plan first, as it has a bit more detail than the chart. Once you get the hang of it, though, go ahead and use the chart!
The word and answer key pages for the lessons are pretty basic. They are just lists, really. The answer keys are fun to read for me, but they also show the breakdown of words, and how they come together, along with a short general meaning, otherwise known as "My Definition," and a dictionary definition. I'll show an example of one of the words from Lesson 1, bibliophile.
bibliophile:
biblio = book
phil = love
*M.D. = love of books
*D.D. = lover of books
See? First you see the words that the students are working with, how they are broken down into morphemes, the meaning of each morpheme, a general meaning, and a dictionary definition.
The review activities are pretty cool, and there are 4 kinds. 3 are done on paper, and 1 electronically. 1 page is a set of created words by secondary students, and then a set of *funny* definitions for students to match with those created words. The third review is of multiple lessons: one after Lesson 2, which review the first 2 lessons, one after Lesson 6, which reviews the first 6 lessons, and finally one after Lesson 12, which reviews lessons 7-12. The 4th review is interactive through the flash drive files. The parent or student prints a hard copy of the directions, then advances on to the second slide, and tried to find the correct meaning of each morpheme. Students are given immediate feedback on each chosen answer. This is super cool, and I didn't know that PowerPoints could be interactive like that! Finally in the back of the Instructor's Manual is a set of study cards. These are card-stock, and can be laminated and cut out, then hooked onto a ring and used for studying the morphemes. On one side are the morphemes along with the lesson number they correspond to, and on the opposite side are the meanings. Each lesson's study cards are also color-coded. No matter how you use the program, the manual is a great tool in the program!
The Student Book is a consumable, so you'll need a book for each student using the program if there are more than one. It has all of the space needed for students to do their work in. We haven't seen a need for extra notebook paper. It has very clear directions for each lesson, but some students may still need a little more guidance, and that's okay! In the back of the student book are several pages of color-coded paper for students to make their own study cards. This is a great way to drill in the morphemes and their meanings. It also contains the lesson review pages.
Okay, to be honest, I wasn't sure what I would think of Greek Morphemes Lessons (It's  NOT Greek to Me!), mostly because I didn't understand what a morpheme was at first. Once I sat down to really look at it, I thought it was the coolest thing ever. I mean, once you learn the morphemes, it's easy and fun to make up words. Using the program 3 days per week, it'll take us a little longer to work through, but that's okay! It was actually pretty easy for Rach to use this on her own once I showed her how to work KeyNote (and learned myself, because I had no clue!). She needed little instruction from  me, which freed up a little of my time for other things. Of course I don't mind actually teaching my kids since that is what I do, but independent work that is easy to do independently is great to have. Unless your younger kids are excellent readers, this is definitely geared more towards older middle or high school students. It's also fun for adults to use! I may even get myself a student book so that I can work through the program for real. I definitely recommend this program to enhance your child's, and even your,  language arts skills!
Be sure to read the reviews from my fellow Crew mates. Thanks for stopping by!