As I said a few weeks ago, I'm sort of building my book collection back up since we've moved. When I find a new book that fits in with our family, especially when I can use it during school, I jump at the chance to get it. This is the case with the book we received from Purposeful Design. The book is called Purposeful Design: Understanding the Creation, written by Jay Schabaker. At the time of posting, the cost is $18.95. It's age appropriate for everyone, so I knew it'd be a great fit for us! There's also a free downloadable workbook available that corresponds with the book, Young Explorer's Club, along with a teacher answer key. This is just a little something extra, not something you have to use. It's better geared towards kids who are already decent readers, or could be used in a group setting.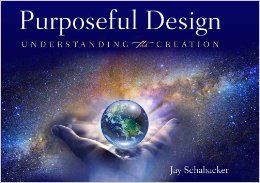 I'm just gonna say it now. I love this book. It's just really cool! It's not a large book in terms of length at 91 pages. There are 7 chapters, 1 for each day of creation, and one for resting. That's what the book is about. I know there are all sorts of books out there talking about God's creation, but this one is just different, and awesome. While it's a book that is about God's creation of the world, it also shows the scientific side of creation from a Christian standpoint.
Chapter 1 discusses the first day of creation, and then goes into detail about what keeps the solar system going; what makes everything work the way that it does, and how God created everything to work in harmony.
Chapter 2, Creation of the Atmosphere and Water, details the rain cycle. Although Issac is a bit of a weather buff and knew a little of this already, the kids really enjoyed reading/learning about it.
Chapter 3, Creation of Dry Land and Vegetation, talks about the importance of plants to humans. Plants have so many uses; for food, medicine, making every day necessities. So many more uses than these even!
Chapter 4, Creation of the Sun, Moon, and Stars; this chapter covers the Earth's tilt, the benefits of ocean tides and the moon, the sunrise's preciseness, and yes, even stars have a purpose!
Chapter 5, Creation of Birds and Fish, discusses why they were created, their instincts, and even why ice floats! (it's really neat, and the reason is something I would have never thought about!)
Chapter 6, Creation of Land Creatures and Humans, covers the uniqueness of humans, and God's creation of domestic animals for us, and some of their uses. The chapter covers blood clotting, cells, the brain and skull, eyes, nose, mouth, and ears.  One thing I must mention that  just tickled me to death, is the fact that breastfeeding is mentioned, and there's even a picture of a mom nursing her baby.(don't worry it's "safe" for kids) I loved this! I love that Jay even thought to bring it up. Kudos to you, Jay!
Chapter 7 is more about the 4th Commandment: Remember the Sabbath day and keep it holy. God rested on the 7th day, and we should also remember to rest.
I know I already said that I love this book, but I have to say it again. I love it! It covers a lot of ground, but it's good information and not a lot of fluff. We see what a loving god our God is, and how much thought and effort he put into everything he made for us. Can you imagine someone loving you so much, that they made a whole world for you, and made it work perfectly? How awesome!
This book was so easy to work into our Group Time around the table. The chapters aren't very long, and we could usually finish one in about 30-45 minutes, depending on how much time we spent on topic discussion. I love that the book opens the door to discussion. It's easy to just read a book and go on about your day, but the Christian scientific approach of this book makes it easy to delve even further. The Young Explorer's Club curriculum encourages kids to expand their thinking skills and reading comprehension. It's a wonderful companion to the book.
You can follow along with Purposeful Design on their blog, Facebook, and Twitter. Be sure to click the banner below to read reviews from my fellow Crew Mates. Thanks for stopping by!