The Critical Thinking Co.
is one of those companies that I had heard much about in the homeschooling circle but never got around to trying until recently. Our family was given the opportunity to review 
Practical Critical Thinking
and the accompanying 
Teacher Manual
for a period of several weeks. Initially, I was going to use the program myself, but after looking through the books I decided to let my daughter do most of the workbook. The student book is recommended for grades 9-12+, so it could be a fit for adults if needed.
The Critical Thinking Co. was founded in 1958 by John Baker, actually in his basement, as a math and textbook company. Their goal is to help students achieve better grades, test scores, and gain critical thinking skills that are needed to make it in this life. Let's face it, if your critical thinking skills are less than stellar, you probably won't make it very far, am I right?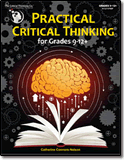 The student workbook consists of 4 units, with each unit having 2 chapters for a total of 8 chapters. Topics that are covered are: what critical thinking is, puzzles to practice critical thinking, basic concepts, critical thinking and language, analyzing arguments, informal fallacies, advertising, and eyewitness testimony, direct and circumstantial evidence. This is a consumable workbook but does allow for copying so you could easily use this for more than 1 child.
Lessons feature Thought Experiments throughout. These involve various scenarios for students to think on and then answer questions about. There are also some small quizzes and student polls. The polls may be about magazine articles, students' opinions on certain topics, particular events they have experienced, and so on. The ends of the chapters contain a chapter summary, important takeaway information, individual activities, and group activities and discussion. In the case of a single student homeschool situation, the parent and child would work together for the group activity.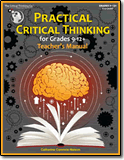 The Teacher Manual really isn't like your typical teacher's manual. Most of the time these would have directions for teaching lessons. along with correct answers and such. Practical Critical Thinking is a different sort of curriculum, however, and because everyone think differently, not everyone will have the same answer for everything. There are some general instructions on what students can do to get more out of their lessons. They may be analyzing a story, how to deal with certain situations, or how to creatively think and solve problems. The book gives some ideas for discussion as well.
After the teacher's manual portion are tear-out sheets of reproducible pages of the student text. All of the pages of the student text are available here, so it's perfect for multiple homeschool students using this, or even for homeschool co-ops.
I have to say I'm pretty impressed with Practical Critical Thinking. It's fairly easy to use since most answers will depend on what the student thinks. We used this 3 days per week, and most lessons are fairly short so they didn't take much time at all. It was nice to have something for Rach to do that would build her thinking skills and she didn't usually have to worry about giving a right or wrong answer. I do want to share her work from the first lesson, because I found it to be pretty hilarious, although true. The child thinks just like her mama.
Practical Critical Thinking is perfect to use for building thinking skills, so be sure to check it out!
Be sure to click through and read the reviews from my fellow Crew Mates. We all received different products. Thanks for stopping by!