How many people know that Satan will do whatever it takes to feed lies into our minds, especially as parents? How many of us realize that it's an ongoing occurrence? Satan would love nothing more than to tear families apart. We as parents are fed lies by those who are worldly and are full of deception. Parenting Unchained-Overcoming the Ten Deceptions that Shackle Christian Parents by Dr. James Dempsey gives 10 examples of deceptions that parents are led to believe in. Dr. Dempsey is a pastor with a doctorate in Early Childhood Education. He and his wife are parents to 3 daughters. He wrote this book using examples of his own parenting ways along with Biblical examples. The book retails for $14.95 at the time of posting, and the Kindle version is .99 cents through the 12th.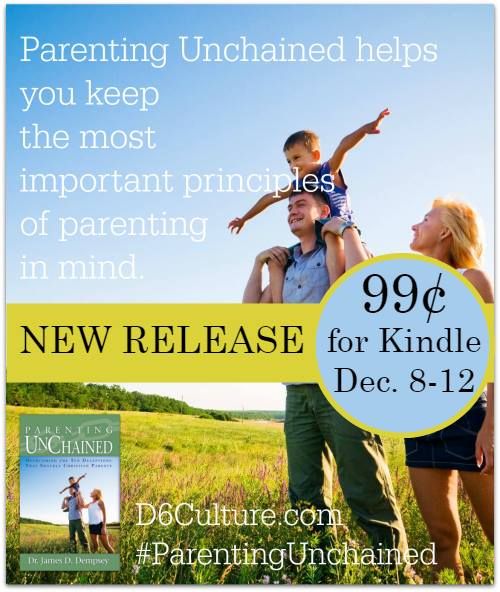 I was so glad to be given the opportunity to review this book. I know that all parents can use some insight on raising their kids from someone who's been there. Having raised his own 3 daughters, Dr. Dempsey has plenty of experience. Here are the 10 deceptions covered in the book:
It's All About Your Kids;  Your Character Doesn't Matter
You're Capable; You Can Do This
God Only Cares About Rules
You Can Be a Parent Without Investing Much Time
Teaching the Right Information is Enough
Why and How You Discipline Don't Matter-Just Make Them Obey
You Don't Need to Talk About Your Faith
Children Should Choose Their Life Course (Without Your Help)
It's All About Consistency (You Don't Need to Adapt)
Life Should Be Easy
The book is just under 200 page long, but it's so full of great information and encouragement to parents. It's not written in a condescending manner at all. It's more like a loving parent showing you an easier way to do something, with Scripture to back it up. It's a book that will challenge you and really make you think. Some of my favorite quotes from the book:
"God says your character is the foundation for your parenting." page 11
"Don't ignore God's work in your own heart as He directs your work on the hearts of your children." page 23
"The truth is, you can't do it alone. You need God's wisdom." page 25
"Not only must we follow the example of Christ, we m just be an example for our children." page 69
I appreciate this book so much. It's made me look at my own character as a person and a Mom. As I said earlier, the  Kindle version of the book is on sale for .99 cents through tomorrow on Amazon. Please get yourself a copy! I highly recommend this for ALL Christian parents.