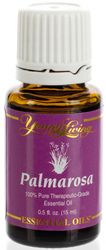 So, I still consider myself new to essential oils usage. I've heard about them for several years, and even used them here and there to make my own cleaners, but only recently began using them for health benefits. Mainly for trying to keep us all healthy for the cruddy winter weather and sicknesses.
Prior to becoming a Young Living Distributor, I had never heard of Palmarosa essential oil. With my newest Essential Rewards autoship order, I decided to order some. Honestly, I bought it because I thought the name sounded interesting, and I wanted to try something different. I wasn't sure what I was going to do with it once I got it.
So, I received my ER package and tore into it right away as usual. It's like Christmas every month! Yeah! The Palmarosa bottle was the first one that I opened. I immediately love the smell. It's a lovely mixture of fruity/floral. Since I knew next to nothing about it, I needed to do some research. Palmarosa, like other essential oils, has lots of great uses and properties! Here are a few:
insect repellent
perfume
fever reducer
antibacterial
antifungal
antiviral
antiseptic
I'm pretty impressed! I plan to mix up an insect repellent for when the nasty bugs come out to play (or eat us up). We'll smell good while keeping the bugs away! Since Palmarosa has antifungal properties, I am using it in my toenail fungus healing. That will be a separate post later on. I've also been dabbing some Palmarosa on my neck just under my ears. It's really a lovely scent and makes a great perfume on its own. If your skin is sensitive, dilute the essential oil first, or you could stretch it by just making your own perfume with a carrier oil.
Palmarosa is also an ingredient in several other Young Living products. They are: Gentle Baby blend, Clarity blend, Animal Scents ointment, Joy blend, Rose ointment, Evening Peace bath & shower gel, and Genesis hand and body lotion
Remember, essential oils go a long way, and too much can be overpowering and dangerous depending how you use them. Always always do your own research before using essential oils, and do not rely solely on someone else's experiences. I am not a doctor, and therefore am not giving medical advice.