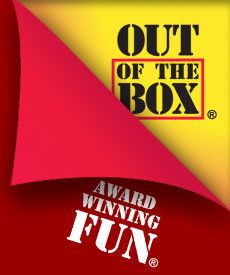 Our family absolutely loves to play games together around the table. Since we moved and have had room for a dining table, it's been put to good use. I especially love when I can incorporate a game into our school day, and it's even better to find a game that everyone enjoys. We were give the opportunity to review a new-to-us game from Out of the Box Games, called Snake Oil. Snake Oil is recommended for ages 10 and up, and at the time of posting, the retails price is $19.99. Out of the Box Games has been providing a variety of games to people that are fun, engaging, and easy to learn since 1998. There are lots of sweet games listed on their website.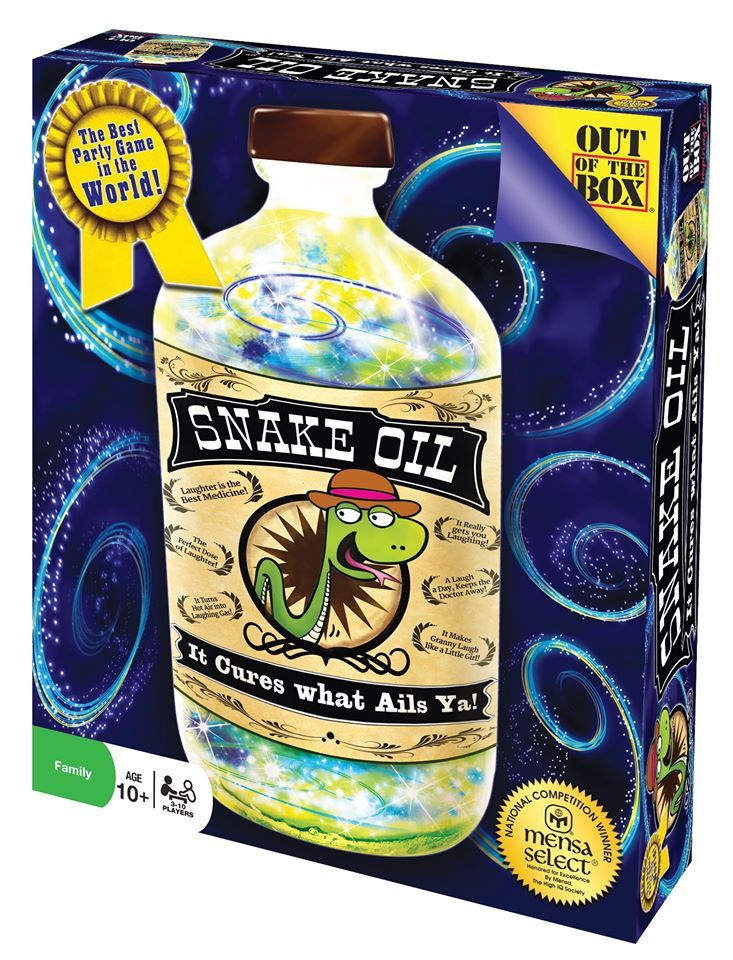 What do you think of when you hear the phrase "snake oil"? I always think of the old Western shows that I've seen that show people on wagons who travel around trying to sell their "magical" cure-all to folks wherever they go. Of course, there's no magic or cure to it. The crooks had to be smart and sneaky and really think of how they could sell their phony products to the poor saps who would eventually fall for their deception. Of course, by the time the people realized that they were swindled, it was too late, and the "snake oil" salesmen were well on their way. Did you know, though, that snake oil really did exist, though? In the 1860s, it was introduced in the US by Chinese laborers who were working on the railroad at the time. They used it as an ointment for sore muscles.
That's sort of the premise behind this game, Snake Oil. Your goal is to sell something that's probably useless to someone, by pitching it to your customer. In the box are 336 Word Cards and 28 double-sided Customer Cards. You need at least 3 players, and can have up to 10. Each player draws 6 Word Cards, and a player is selected to be the first Customer. All of the other players then decide on which 2 of their Word Cards they will combine to make a product that they will then pitch to the Customer. The Customer can cut off a pitch that goes on for more than 30 seconds if they wish. After everyone has pitched their product, the Customer choose which product was their favorite, then hands their Customer Card to the person they chose. The Word Cards that are used are discarded after each round, and new ones drawn. After everyone has been the Customer one time, the game is over, and whoever has won the most Customer Cards wins! It's really a very simple game, and it gets everyone's creative juices flowing. My poor mama brain can really use some help in that area, let me tell ya!


The kids and I had SO MUCH fun with this game. We've never played a game before that had us rolling like Snake Oil does. As soon as the game came in the mail and the kids saw the box, they were so excited and asked to play right away, even though they didn't know what it was. We have played this game so many times, and it never gets old. We love it so much. Sometimes we play after school is over, sometimes we play it for the purpose of school during the day.  You just never know when someone's gonna bring the game to the table, and everyone rushes to play! Lucas is 6, and it's hard for him to play since he doesn't read yet, so it's usually just me and the 3 oldest kiddos playing. One thing I want to mention, is 2 of the cards have somewhat unusual words for what I would consider a family game: Bra and Hell. While I realize these aren't really bad words, I definitely wasn't expecting to see them on any of the cards. Of course the boys giggle like schoolgirls when one of them gets the Bra Word Card, and no one uses Hell at all. In fact, I'll probably just pull those 2 cards out and discard them. I'm not a prude or anything, they just don't work for our family. Otherwise, the game is a HUGE hit here, and you need to get it!
You can follow along with Out of the Box Games on Facebook, Twitter, and YouTube.
Be sure to click the banner below to read reviews from my fellow Crew Mates. Some received a different version of Snake Oil, so be sure to check it out. Thanks for stopping by!