I realized a while ago that it's been a bit since I've posted my Young Living Essential Rewards order…oops! Without further ado…here we go!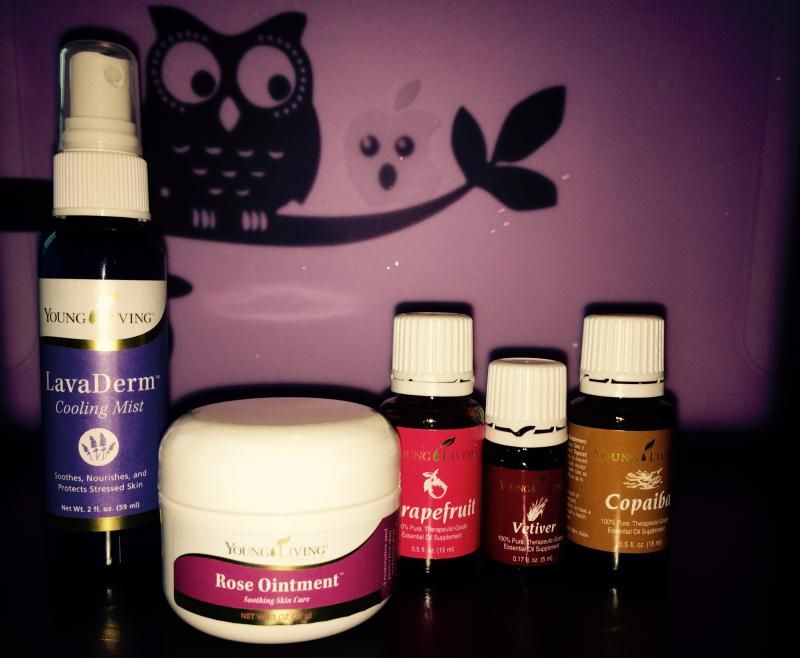 From left to right, we have:
Lavaderm Cooling Mist
Rose Ointment
Grapefruit Essential Oil
Vetiver Essential Oil
Copaiba Essential Oil
I just realized that I ordered 5 items in my ER order this month, which is an odd number. Ack! I detest odd numbers.
I chose Lavaderm and the rose ointment because of my skin issues. I have eczema, and also dishydrotic eczema on my feet, so my skin is stressed from that.  The only thing I've ever found to help with that is steroids, and I want to avoid that as much as possible. Lavaderm is very soothing to the skin, and rose ointment is very nourishing and includes mink oil, lanolin, and other healthy ingredients.
Grapefruit is a very uplifting and energizing aroma, and I need all the help I can get with energy. It can be photo toxic, though, so if you use it on your skin, do so at night.
Vetiver is high in sesquiterpenes, and may help with  stress and relaxation. I need help there as well.
Finally, copaiba may help with digestion and the body's response to irritation and/or injury. With 4 kids, injuries will  happen…it's jut a matter of when.
All of the products listed above can be purchased here. You can sign as a customer and purchase at retail prices, or sign as a Distributor and receive a 24% discount when you purchase a starter kit. I recommend one of the Premium Kits, because they really are the best deals.
Note that I am not a medical doctor, and neither I nor Young Living make claims that essential oils are a cure-all. Essential oil ingestion is not recommended unless you're under the care of a physician who is trained in essential oils. I recommend using essential oils by way of direct inhalation from the bottle, topical application by dilution with a carrier oil, or by diffusion with an essential oil diffuser.
Thanks for stopping by!