I have always struggled with any type of routine when it comes to housework. My intentions are good, but I always end up failing and end up doing things there and there willy-nilly. Keeping up with housework is a difficult and an exasperating chore for me, because I can never decide what I should do and when I should do it. Enter
Motivated Moms
. Motivated Moms began several years ago as a collaboration between 2 ladies. Eventually, one of the two, Deann Polanco, took over Motivated Moms herself for a few years. She met Susan Cramer online, and a friendship formed (isn't that awesome?! I've made so many wonderful friends in my online world).  Unfortunately, Deanna was diagnosed with ovarian cancer, and the Lord took her home. Fortunately, though, before she passed, she sold Motivated Moms to Susan, who continues working it to this day!
Motivated Moms is a pretty unique chore planner. There is an iOS app, which I have used in the past, as well as an Android App(not part of the review at this time), and there are e-books available as well. For this review, I was given my choice of the e-book version. I chose and received the color version chore planner with scheduled Bible reading, as seen below. The cost of the e-book planners is $8, and the apps are $7.99, with the iOS app having the option to purchase a 2 month trial for $1.99, and upgrading later. You can also choose a planner without the scheduled Bible reading if you're already using something to keep track of your reading.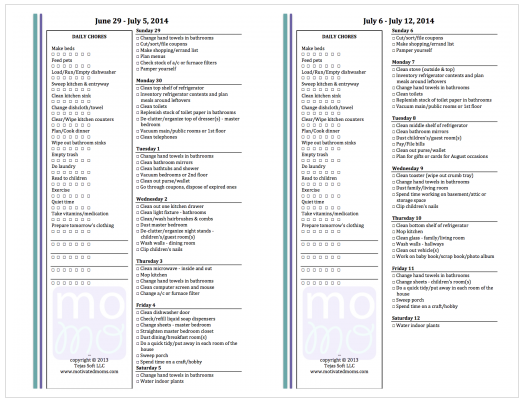 Since I chose the version that I did, I only print my pages out a month at a time. You could also have your planner printed and bound at an office supply store to make yourself a book planner. Each page contains the entire week's tasks. On the left side of the page are the Daily Chores, which do not change, as well as that week's Bible reading schedule. On the right-hand side of the page are the different upkeep chores for the week, broken down into each day's work. For example, my chores for today are:
Change hand towels in bathrooms
Dust children's/guest room(s)
Change a/c or furnace filter
Spend time working on basement/attic or storage space
Clip children's nails
Not painful, right? Admittedly, there are some things which don't apply to me, like changing hand towels in the bathrooms. I don't use hand towels in the bathrooms, because hello germs. We mostly use paper towels for hand-drying, but you could certainly make that fit your situation if you wanted. There are some chores, like changing towels, inventorying the fridge, and cleaning toilets that you'll see quite often, and there are other chores like cleaning your computer screen, cleaning jewelry, and cleaning certain light fixtures that you'll see less often. Each chore has a small box beside it, letting you check off that you've done that task that day. Not gonna lie, I like checking off those boxes. Sometimes they don't get checked off because my marker goes missing, and then I can't find a pen. I blame the short people who live here, they're always running off with my things.
How I Used It
There really is nothing to using this planner. Just print out your pages, and check the page each day to see what your tasks are. If you aren't used to using a planner to complete your chores, a good idea is to place your pages where you will see them often. My planner pages cover the whole week, so I just stick that week's page on the fridge, and I'm good to go for that week. I'm in the kitchen pretty often during the day, so it's a guarantee that I'll be seeing my chore page 4758128187373 times a day. The kids think that they have to eat all the time or something, so I'm at the fridge a lot. If there's something that doesn't apply to me, I simply skip it and move on to the next task.
I enjoy using my Motivated Moms planner. I think $8 is a small price to pay for a year for someone to make an awesome planner that helps you keep up with your daily tasks, especially if you feel overwhelmed with keeping house like I did. Be sure to click below to read reviews from my fellow Crew Members. Some reviewed the iOS app, and others reviewed their choice of e-book as well.