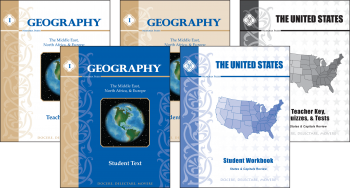 The kids have recently shown an interest in learning more about Geography, so I was stoked to have the chance to review Geography I by Memoria Press. Memoria Press has been "Saving Western Civilization One Student at a Time" since 1994. Geography I is available for $48, and is geared for grades 4-8. It includes:
Geography I Text $14.95
Geography I Workbook $11.95
Geography I Teacher Guide $12.95
United States Review Student $5
Unites States Review Key, Quizzes, and Tests $7.95
  As you can see, there's a bit of a discount when you purchase the whole set. Who doesn't love getting discounts?! The curriculum covers the Middle East, North Africa, and Europe, that made up the ancient Roman Empire. Cool, right? The main goal is for students to be able to identify each country on a map. With each country that's discussed, students will read about the country's ancient history AND how it exists now. Then, they'll complete the corresponding workbook page where the student label the country's capital, places on the map, learn some cool fun facts, and the country's prior (ancient) name.
 The Student Text lessons are 2 pages, and contain maps of major cities, landmarks, the climates, rulers, religions, and the flags. In the back of the book there are all the flags in full color! This book is not consumable so you can reuse it as often as you need. The maps are nice and large and easy to read, as they take up a full page.
 The corresponding Student Workbook works right alongside with the text book. There's a blank map that matches the one in the text book, so it's sort of like open-book work (which was always my favorite thing in school!).At the end of each country section is a Review page for students to label and color each country they've studied so far.
  The Teacher Guide is basically an exact copy of the Student Workbook, but it of course contains all of the answers. Score!
  The United Stated Geography Review is a follow-up course to Memoria Press' States & Capitals, and is a nice supplement to the Geography course. It contains a full map of the US, and lists all 50 states by Region (ie New England, Great Lakes, Plains, etc.)  The Teacher Key is similar to the workbook, but it contains the answers, as well as quizzes and tests. The only thing that I did not like is that there is no Table of Contents.
How We Used It

 I used this curriculum with Issac for the purpose of this review.  It's very easy work to do and doesn't take any real planning. We did lessons about 3 or 4 days per week, so we were actually able to cover a lot of ground. I plan to use it with all the kids eventually. I sat alongside Issac, and we did some of the Student Text as read aloud, that way even though all of the kids weren't' doing the book work, they were still learning. Even Lucas learned some new things. After our reading, Issac got his workbook and text books together as needed to complete workbooks pages. We didn't get to work in the United States book, yet, but I have read through it, and love how thorough it is. Again, it's easy for parents in that there's no real planning to put into it.  Later on I think I'll get a workbook for each of the kids, that way they can all work together!
 I really enjoyed reviewing Geography I, and plan to purchase Geography II later on to use. The price is the same, and I love that I can just buy extra workbooks as I need them. If you're looking for a nice, easy to use Geography curriculum, you can't go wrong with Memoria Press. Be sure to click below to read more Crew reviews. Some got to review Prima Latina!