A lot of products that our family is privileged to review are new to us, whether it be the actual product or the company. When I heard that
Logic of English
was upcoming, I got more than a little excited. We were blessed to review one of their products last year, and I knew it was a quality company. This year, we were given the
Essentials:Logic of English Complete Set
 in manuscript form to review for Ethan, who is my struggling speller/sometimes reader. I knew that with the time and right materials, his skills would greatly improve. The Essentials set includes a teacher's manual, student workbook, spelling journal, basic phonogram flash cards,  spelling rule flash cards, grammar rule flash cards, advanced phonogram flash cards, a game book, red manuscript game cards,  a 2nd set of blue bookface game cards, and a quick reference chart. This set is recommended for ages 7 to adult, and is $243 with free shipping to the lower 48 states. You can also purchase each item separately. We also received the Phonics with Phonograms App available in the iTunes App Store for $2.99.
What Is It
First let's talk about the Teacher's Manual. This 612-page hardback book is the heart of this language arts curriculum. You may notice in the above picture that I have tabbed some areas of the book. This was to help me find what I needed early on in the book. The book contains a scope and sequence, introduction to Essentials, symbol keys, and a list of needed materials as well as optional supplements.  There are also sample schedules for readers of various levels:
Struggling readers and spellers
Struggling spellers
Emerging readers and spellers
Young emerging readers
ESL students
Since I knew I'd be using this with Ethan, I started with the struggling spellers sample schedule. According to the schedule, a lesson should be taught in a day or 2, giving you a time frame to complete the entire curriculum in 8-16 weeks. Some of the phonemic awareness exercises were familiar to me because I did them with Lucas last year, so that was pretty fun. Each lesson is broken down into 3 parts. The components of part one are phonograms, sound exploration, and spelling rules. Part two consists of spelling dictation and analysis. Part three consists of grammar, dictation, composition, and vocabulary development. Every fifth lesson is for review and assessment. There are also optional activities that use kinesthetic, visual, auditory, and creative learning styles. The beginning of the teacher's manual has several handy tools for you, such as a list of spelling rules (referenced in lessons), basic phonograms, and 39 spelling lists. I really love the spelling rules, because a lot of them I've forgotten myself, and it's a very handy reference to have on hand.
The beginning of each lesson tells you what the lesson covers, and what materials you'll need. For example, Lesson 1 covers phonograms A-Z, consonant and vowel sounds, 2 spelling rules, and nouns and plurals. The materials for this lesson are phonogram flash cards A-Z, 1 deck of game cards per student, and spelling rule card 11.  Lessons are clearly broken down step by step, and it's easy to see what you'll be doing.
Next up is the Student Workbook. This is consumable, so while you can use this curriculum with more than 1 child, each child needs their own workbook. It's 484 pages, and the top of each page shows which lesson it corresponds to. There are plenty of exercises in the workbook, which is great…practice makes perfect! The pages are also easily torn from the book as needed.
The Spelling Journal is a 72-page workbook to help with similar sounds that are spelled differently. It includes a sound to spelling reference, phonogram table, and a list of 30 spelling rules. The pages have spaces to write words that contain certain sounds, as you see here on this page for words containing the long a sound, and use ey and eigh, along with rules.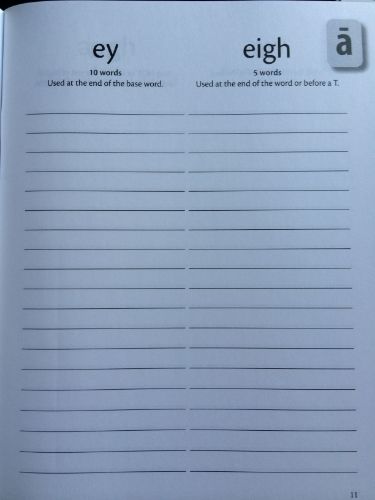 Next, the Phonogram & Spelling Game Book is simply that, a book of fun games! It's 96 pages long, and contains 9 different game categories. The Teacher's Manual will tell you which game to play depending on the lesson. We play Go Fish here pretty often, and there is a variation of that. Oftentimes the games can be played with more than 1 person. If we all want to play we just take turns.The games are a great way to reinforce the lessons.
The Quick Reference Chart is a handy foldout cardstock-like chart that contains the 30 spelling rules, along with other grammar rules, phonograms, and the sound to spelling reference chart. This is great to have if you want your student to do a short review.
The Grammar Flash Cards cover material such as nouns, adjectives, transitive verbs, statements, and prepositions. One side defines the subject, and the other side gives several examples. Again, the teacher's manual will tell you which to use and when.
The Basic Phonogram Flash Cards cover the 74 basic phonograms. They're 4.5 x 6 inches in size (as are ALL of the flash cards we received) and very easy to read. They have the phonogram on one side, and a sample word on the other.
There are 35 Advanced Phonogram Flash Cards. They contain phonograms such as au, gh, cc, and eau, and also have a sample word on the opposite side.
The Spelling Rule Flash Cards contain the 30 spelling rules. They are printed in 2 different shades; the green highlights the sample words.
The Red Manuscript and Blue Bookface Game Cards are essentially the same thing. They contain phonograms, as well as different picture cards to go along with the necessary games. We had a lot of fun with these.
The Phonics with Phonograms App can be used on its own, or with the curriculum. It allows for multiple users, and covers all 74 phonograms.  You can have the app automatically "play" the phonograms in order, or you can tap each one yourself. This works great with the lessons. It will also say any special spelling rules that correspond with the phonogram. You can view uppercase A-Z or lowercase flashcards. There are 10 guided levels, or you can just do the ones you want. You can also create a customized playlist. The speech is very easy to understand.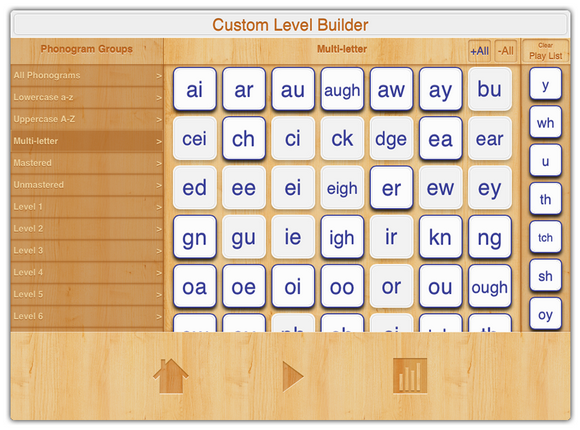 As you can see, this is a very detailed curriculum. There are lots of tools to aid the teacher/parent in teaching children, or even for adults to teach themselves!
How We Used It
This program isn't really conducive to independent work with children. If you're teaching yourself, that's another story. This is a program that I definitely had to sit down and teach to Ethan. I decided to break each lesson down into 2 days each, so we completed 2 lessons per week. Typically, we do the first 2 parts the first day, and part 3 on the second day. We spent about an average of 1 hour per day total working on Logic of English. This does not include game time; those took about an extra 20-30 minutes. As I said, Go Fish is a big game here, so sometimes we play when it's not school time. The teacher's manual is easy to follow. Just do exactly what it says, and that's what I did. As for the optional exercises, some we did, and some we skipped. This program is so detailed that, in my opinion, you don't need anything else.
What I Think of It
I'm very impressed with the ease of use of Logic of English Essentials. It's more in-depth and detailed than most things that we use for school, but it works. I already see an improvement in Ethan's spelling, and even his reading. He's not once complained about doing his work, which is impressive because Ethan is a complainer, and a bit lazy. It's nice to find something that works for him and that he enjoys doing. This is a great program to use with more than one child as well…you just need to buy separate workbooks and spelling journal, if you choose to use that. It sort of feels like you're in a classroom when you're working, but not in a bad way, and it'd be easy to teach more than 1 child at once as long as they're working on the same program. I definitely recommend this program if you have a struggling speller or reader. It was so easy to incorporate the app into the lessons if I didn't want to pull the cards out. On a side note about the cards: invest in some rubber bands to keep those bad boys contained. I lose things all the time, so trust me. This is great for adults to review as well, which is what we do when we teach our kids, right?! I am very impressed with Logic of English in general. This is the second product that we've reviewed from them, and I know that they offer a quality product.
Be sure to click the graphic below to read reviews from my fellow Crew Mates. We all reviewed Logic of English products, but there are several of their programs that were used. Thanks for stopping by!