My kids love playing games on the computer, and I don't mind so much really, especially if they are learning at the same time. We were recently given lifetime  access to  Preschool Curriculum from La La Logic. While this is technically a preschool program, it's geared for ages 3-6, and since Lucas falls into that range, I knew that I could make it work for us.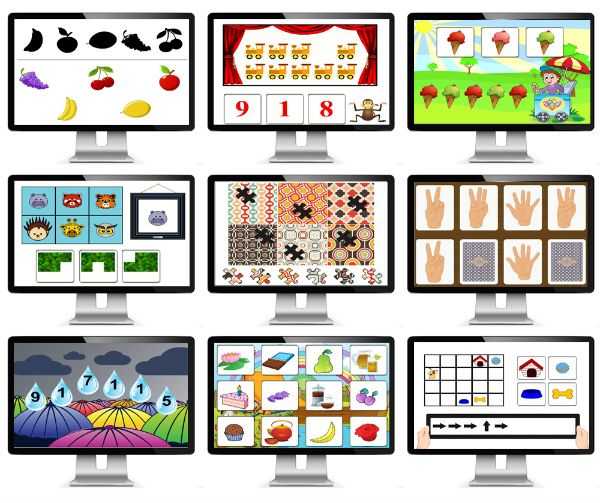 La La Logic is an online multi-sensory program that has a lot to offer. In total, there are about 100 weeks of work, working 4 to 5 days per week. One thing I will note is that your subscription doesn't ever run out. You aren't paying for time, you are paying for the website content, and a subscription can have up to 5 children on 1 account! La La Logic will work on PC, Mac, and mobile devices such as an iPad or other tablet. The program includes online animated Brain Challenges, as well as downloadable worksheets and activities.
When you log into your account, you are taken to your dashboard. The dashboard shows the list of students on your account, as well as how many lessons each student has completed. There are a few links to choose from.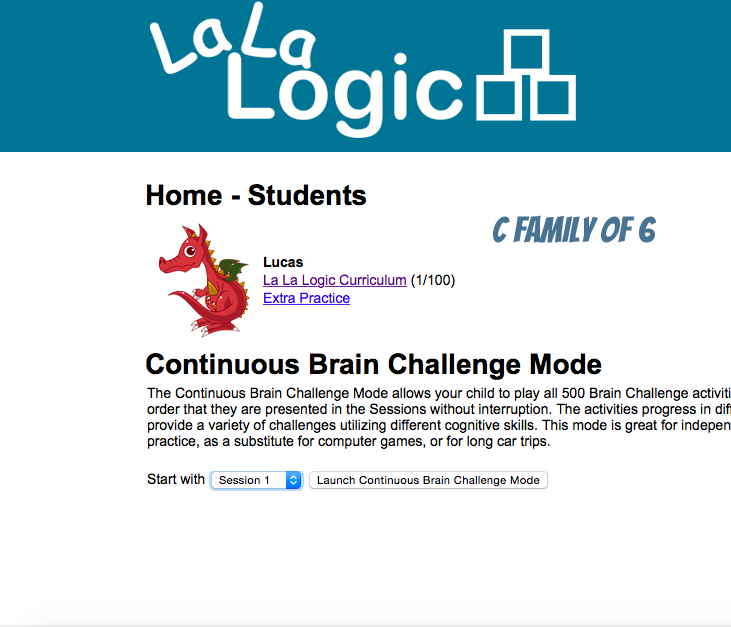 The curriculum link is the meat of the program. When you click this, you are taken to a page with chalkboards that have "Sets" on them. Each Set is a set of 5 weeks. You just click on whatever week you are on, and you are then taken to that week's work. Each week's agenda includes the Brain Challenge, and the downloadable schedule, worksheets, and activities.
I like to download the schedule before we start anything else to get it out of the way so Lucas can start the Brain Challenge. I knew that he wouldn't need to start with Week 1, but when he saw me looking at it, he didn't care. I had to trouble getting him to sit down and do the challenge. There are fun challenges like matching shapes, finding the correct picture, puzzles, and lots more. Students are given immediate feedback when they select the right or wrong choice. Some of the challenges are narrated my a female voice, and it's a real voice, not robotic, which we really liked. Students do have the option to skip challenges, or to replay the narration if they missed or didn't understand something. When a Brain Challenge is completed, you see this!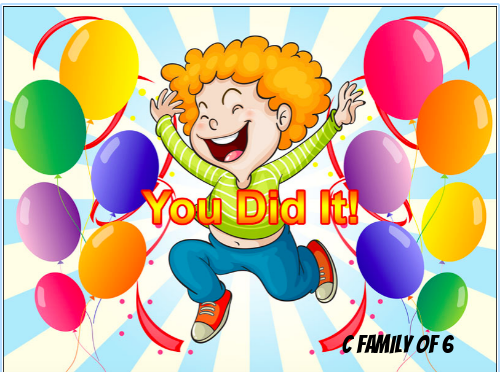 In total, there are 500 Brain Challenge activities. There is also a continuous Brain Challenge mode, which is nothing but Brain Challenges. That was Lucas' favorite part.
From the dashboard there is a link to go to the Extra Practice page. From there you can go to Continuous Brain Challenge Mode, and there are also links for extra numeral practice, as well as activity practice. This way your child can get some extra practice on specific skills from Brain Challenges. Lessons get progressively harder each week.
When a week is completed, you simply check off the box located on the right side of the weekly work page. The next time you go to the work set page, you'll see an X beside each completed week.
The download content is generally only a few pages long. It includes the week's schedule, along with some hands-on activities, as well as boxes you can use to fill in information such as what your child liked most about the week's work, what they struggled with, and your goals for the next week. For some of the activities you'll need things like glue, scissors, and crayons.
What We Think
Well, Lucas totally loves La La Logic. I had absolutely no trouble at all getting him to do the work. This "work" is lots of fun for him, and I love that he's learning while playing. This is the perfect curriculum for young children, because it can be completed in about an hour or less per day, and encourages play time. He mostly did the Continuous Brain Challenge mode, since that was his favorite part, but we did do the worksheets as well. Since he's a little older, it didn't take very long to do the enrichment work. I had planned on looking through multiple  lessons to see where I thought he should start, but we went ahead and started with Week 1. We worked 4 days a week, and I know he'll keep using it for a long time. This is well worth the one-time fee of $29 per family. If you don't take Summer breaks, your child could complete this in about 2 years, or less if they do more work per week.
Be sure to read more reviews from my fellow Crew Mates. We all received the same product for this review. Thanks for stopping by!