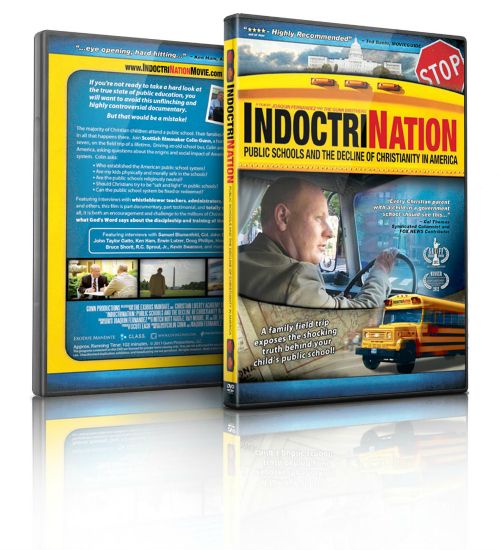 I think most Christian families would agree that Christianity in America in general, and especially in public schools has drastically declined over the years. Some think that no religion should be taught in schools, and others may think that God should be taught in schools. I think most of us agree that morality is seriously lacking in today's society. That's not to say everyone is horrible, but we don't seem to hold ourselves up to the same standards that we did not so long ago even. If your kids are in public school, do you ever stop to winder what they're being taught? Are they limited in her discussions? What's taboo?

I was recently given the opportunity to review a fascinating DVD called IndoctriNation from Great Commission Films. This documentary is mainly geared for parents, and is just over 100 minutes long. Some of the content mentioned may not be suitable for young ones, so I recommend watching it yourself first, then use your own discretion to decide if you want your children to see it as well. The DVD sells for $19.95 at the time of posting, but you can also rent or purchase the digital version for a little less.
While homeschooling is gaining in popularity, most American children attend public or private schools. Many families need both parents' income, or just feel like public school is best for their families. Colin Gunn, a Scottish homeschooling father to seven children, who now lives in America, takes his family and film crew on a 3 week long *field trip* across America in a school bus. He speaks with parents, students, school administrators, and other folks with ties to the American school system about what it's like being a Christian in the American school system today. One public school teacher said that parents often think that their children are in the best environment and are getting a great education, but that many students are hearing about things or learning phrases that they normally wouldn't learn about at home with their parents, or at church.
There are also several media clips from Christian pastors and speakers. The documentary also goes into detail about the history of the beginnings of public education, and the groups who shaped the concept. Home education was the norm for many years. The communist manifesto was actually to put an end to home education. While that is shocking, are we really surprised? Can you really opt your children out of a particular subject such as sex education? Not really, because their peers are going to tell them everything that was discussed, aren't they?
As I watched the DVD, I took some notes, which is rare for me. Voodoo Bacham, Jr. said that 90% of Christians make the choice to send their children to public school, yet there's no scripture to back that up. We as Christians base our faith on our belief system and the Word of God, but why aren't our educational choices for our children the same? Many parents have the belief that they'll send their Christian children to public school in order to witness to their peers. This is certainly a good intention, however, our children are also exposed to those with different belief systems. can we really expect our children to be mature enough and responsible enough to handle this? 1 Corinthians 15:33 says "Do not be misled: bad company corrupts good character." Make no mistake, corruption is rampant in America, and in our schools. Exposing our children to this does them no good.
IndoctriNation is so thought-provoking, and interesting to watch. While I don't need anyone telling me that I made a good decision to homeschool my kids (hello, I know  it was a great decision!), learning the history of how public education came to fruition and how schools today are so different from when I was a student definitely seal the deal. My husband hasn't had a chance to watch this yet, but I was able to watch it in one sitting. It's no longer than most movies, really. I have learned so much from the information and history discussed in the DVD. This is something that I think all parents should sit down and watch. I still haven't decided if I want to let the kids watch it or not, since sex and birth control are mentioned.
Be sure to click the graphic below to read the reviews from my fellow Crew Mates. You'll be glad you did!