I've never really been one for audio books. I mean, not that I have anything against them, I just didn't think they were my cup of tea. Members of the Schoolhouse Review Crew were given the opportunity to review the In Freedom's Cause Single Package from Heirloom Audio Productions. Upon reading details of the CD package, my interest was piqued and so  I decided to give it a go. It sounded like an interesting story, and I figured the kids would enjoy listening to it. The package that we received includes:
In Freedom's Cause (CD Set – Physical Copy)
In Freedom's Cause Study Guide (Digital Download)
In Freedom's Cause Soundtrack (MP3 download)
Printable copy of The Prayer Of William Wallace. (Digital Download)
At the time of posting, the set is available to purchase for $29.97 plus shipping costs.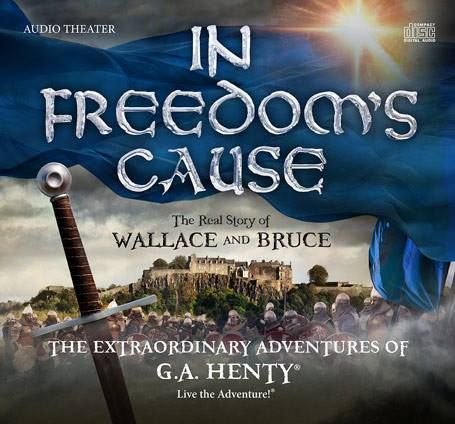 This audio production is 2 hours long, and is based on the book,
In Freedom's Cause 
written by G.A. Henty about Sir William Wallace's famous battle for Scotland. It is like nothing I've ever encountered. I've listened to a few audio books before, but this is completely different. It's not just someone reading a story, there are different people playing different characters. Plus, there are sound effects. I mean, it's like listening to a movie with no pictures. It's really cool!
The main cast features Joanne Froggatt from Downton Abbey, Billy Boyd from Lord of the Rings, Skyler Keynes from the Narnia series, Cathy Sara from Woman in Black, and James Cosmo from Highlander.   The CD insert includes a copy of William Wallace's prayer, which is a version Psalm 23 in the Latin Vulgate. It's so beautifully written, and I love that a printable copy is one of the bonuses that comes with the set. It's great as a discussion piece to go with the story, or hang on your wall.
The Scottish people wanted their freedom from England, and the King surely wasn't going to just give it up that easily. In 14th century Scotland, William Wallace builds up his own army to go against England's in order to win their freedom, with fellow leaders Archibald Forbes and Robert the Bruce. The story is a great portrayal of the Battle of Bannockburn that occurred in 1314.
Since getting the kids to sit and listen to a story being read on a CD would be like pulling teeth, I decided we'd listen to it in the car while traveling back and forth to town. We live a little ways from town, and traveling back and forth several times a week made it easy to listen to the story. I enjoyed the story so much. The way it's told and the effects make it so engaging, and not dreadful to listen to at all. I mean really, the only thing that could possibly make it better was to take the audio exactly as it is, and make it into a movie. I am not joking. I would totally pay to see it!
The included study guide is 47 pages long, and pretty nifty. It has biographical information on G.A. Henty, the author of In Freedom's Cause, Sir William Wallace, and Robert the Bruce. Did you know that Henty traveled the world as a war correspondent? I had actually never heard of him before receiving the CD set. After Wallace's execution, Robert the Bruce and his men defeated the King of England. The study guide is a great companion to the audio, with ideas to encourage further study into the story. It has questions for each chapter of the story, along with defining, or vocabulary words. It's perfect for both History and Language Arts! At the end are some notes on Scotland, as well as an accompanying Bible study.
If you love History, and love a good story, you won't be disappointed with this at all. It's so engaging and fun to listen to, I don't know how anyone could get bored with it! The study guide is the icing on the cake.
Be sure to click the banner below to read reviews from my fellow Crew Mates. Thanks for stopping by!