My daughter is a freshman this year, so I've been looking and praying about the curriculum I would use with her this year. I wasn't sure if literature was something we would try, because while I am an avid reader, she isn't as much of a reader as she used to be. I'm hoping that will change, but in the meantime, we were given the opportunity to review Illuminating Literature: When Worlds Collide from Writing with Sharon Watson. This is a set of books that include
We were also sent the first 2 novels: Pudd'nhead Wilson and War of the Worlds. The novel notebook is something that's actually available to anyone at the time of this posting. You can also view samples of each book. There are 8 books that are covered in this program, and they can be found here.  Note that they are not included in the curriculum, but must be purchased separately. These are the versions that are approved, with page numbers being referenced throughout. You could also use any digital versions on a Kindle with the searching function. Generally, 1 book is read per month. This will provide high school students with 1 Language Arts credit.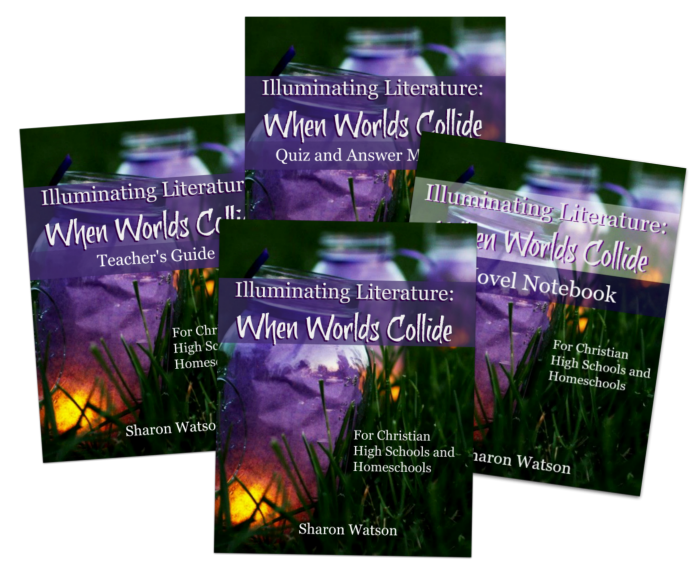 The student book is the largest in this set. This is a text for the student to read on their own, and is also a workbook with space for writing prompts, as well as rating the books they read. Each lesson also includes a suggested reading and homework schedule. Students are also given access to online quizzes and surveys, and quiz information is emailed to you. These emails include student answers as well as grades. There are discussion questions, research ideas, loads of author information, and vocabulary quizzes. Students will also learn about many literary terms. There are also recommended activities related to each book, plus recommended books that are similar to the ones in the program. Students will learn such literary terms as simile, metaphor, protagonist, assonance, vivid verbs, etc. There are 70 lessons in total.
The teacher guide is a bit smaller than the student book. It has some lesson objectives, student book information (what students will do/read about in that lesson), some discussion dialog, vocabulary quiz answers, and some possible student answers. This is to give you an idea of where your child may be coming from when they give their answers to questions in the student book. It's by no means all size fits one because student opinions and answers will vary. At the end of each chapter is a grading grid. It's sectioned into different activities with recommended grading points. If you're using this with a co-op, you can actually make copies of it for each student.
The quiz and answer manual contains the online quizzes and opinion surveys in print form for those who prefer their children/students to complete quizzes on paper. These can also be copied as needed. The answers are in the back of the book.
The novel notebook is, of course, printable, and you would keep this in some sort of folder or 3-ring binder. There are lined pages for students to record their answers to specific questions. For example, students will record a few of Pudd'nhead Wilson's witty quotes, and then make up some of their own. They'll also jot down examples of prejudice from the book, as well as irony examples and what they liked and don't like about the story. I really like the look of the novel notebook pages. They're fun, and I love that they're lined!
To be honest, I wasn't sure how this would work for us. It seemed a bit more involved than what we are used to doing, and as I said before, Rach hasn't been much of a reader recently. Sharon does acknowledge that a lot of students are probably similar in that. I was able to make this work fairly well for us. It wasn't too hard to let Rach work on her own with the student text and books. If she needed help or questions answered, that was fairly easy to do. The program really opens students' mind up to more in-depth thinking. Rach wasn't really thrilled about all of the reading and work required at first, but I think as time goes on she will become more accustomed to it. Since this program is 2 semesters worth of work, we plan to stick this out, because it's a very unique and new kind of curriculum for us. I think it would be great for adults to use, as well!
Be sure to click through and read the reviews from my fellow Crew Mates. Thanks for stopping by!