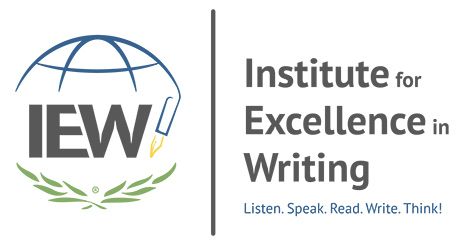 Our family was blessed last year to be able to review our very first product from Institute for Excellence in Writing (IEW), and we loved it so hard! So I was thrilled to be given yet an opportunity to review a totally different product from them! For this review, we were given several products that are part of a kit. We received Deluxe Combo Teacher/Student Writing Package Level B [FIX-1 & 2]. Sheesh, that's a lot of goodies to get all at once, but I couldn't wait to dig in! The products we were given are geared for grades 6-8, and so Rach was the lucky one to use them. Issac is also within the grade range, but he will use these at a later time.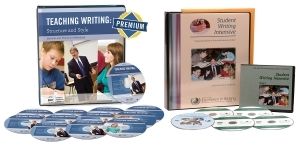 When we received our package in the mail, I was blown away at how many items we actually received. It's one thing to see a list online, but when you can get everything in your hands it's really outstanding. I admit I was a bit overwhelmed. We reviewed an IEW product last year, but I knew this was different and wasn't sure what to expect.
Here's everything laid out on my table. It was like Christmas in the Spring!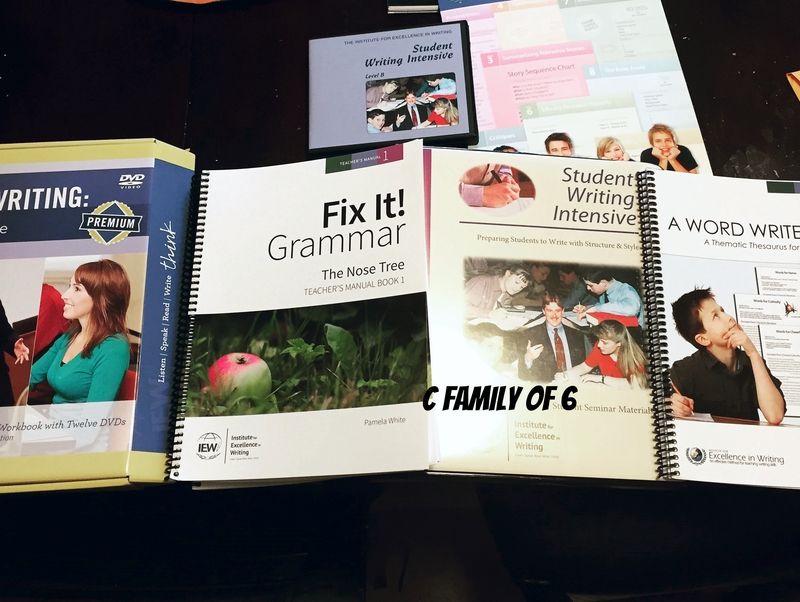 Okay, so here is a breakdown of what is in the kit and what each item is used for:
Teaching Writing: Structure and Style, Second Edition: this is a nice boxed set that includes a DVD Seminar, Workbook, and a Premium subscription. I would probably call this the meat of the program. It's specifically made for parents and is designed to teach us how to teach our children to write using the IEW program. The DVDs contain more than 14 hours of view time and are housed in a nice sturdy and cushioned case. The first 2 discs are for the first 2 Units (9 units in total), and then there is one for each additional unit. The last 3 discs are demonstration lessons. They are taught by Andrew Pudewa, who is the director of IEW. They are in a workshop setting with parents as the audience.
The workbook is actually a binder that you'll reference and use while watching the DVDs. There are occasions where you'll actually be writing in it along with the corresponding DVD workshop. I thought this was really cool because you're learning, too, and working along with the parents in the DVDs. There is content broken down and tabbed for each unit, plus 3 more tabs that include Literature, Stylistic Techniques, and an appendix. There are step-by-step instructions for teaching each unit. If you follow a regular school term, you could easily do 1 unit per month, depending on your child's learning style, of course.
The premium subscription gives you access for 1 year to some extra product downloads. The downloads include digital access to all 12 DVDs in the set (great if you misplace yours temporarily!), webinar access (available in July 2015), audio downloads, and 4 digital Writing Source Packets. The Writing Source Packets have so much content, such as mini books, articles, stories and pictures for each level. My favorite download is called Blackline Masters. It's 240 pages of handouts that include articles, abbreviation lists, checklists, and worksheets.
Student Writing Intensive Level B: Now we're getting into the student work! This set includes a set of 5 DVDs, a student binder with a packet of handouts to go inside it. The first DVD is an overview for both parents and students, so I recommend watching it together with your child(ren). It kind of gives your student a taste of what's to come with the IEW program.  The next 3 DVDs cover the first 4 units, and then the last DVD is for creative writing and sentence openers. I want to note that each level of the Writing Intensive assumes that your child has had no prior experience in creative writing. It's just that each level is a little more advanced in how the content is presented and what content is used and recommended.
Fix It! Grammar: Books 1 & 2 with downloadable e-books: Fix It! Grammar was actually the product from IEW that we reviewed last year and loved!  We had Book 1, so I was excited to also get access to Book 2 as well. The physical books are teacher's manuals, so we had to download the pages for Rach to use. No problem! Book 1 is The Nose Tree, and Book 2 is Robin Hood. In these books, your child learns how to correct sentences by indenting paragraphs where needed, choosing which end mark to use, capitalization, who-which clauses, and so much more. They'll then re-write the sentences on notebook paper until they've written the entire story. You can also purchase physical student workbooks, but since you're only making corrections in the book or on the printed page and then writing on notebook paper, it's probably more cost-effective to just buy the e-books. Fix It! Grammar is actually one of our favorite things to do in our homeschool.
A Word Write Now: Okay, I've seen thesauruses before, of course, and even used them. This one, however, is a bit different. One thing about IEW is when writing about something, you would replace an overused word with a synonym that's used less often. A Word Write Now is broken down into 4 sections: Character Traits, Words to Describe, Words for Movement and Senses, and the Appendix. The Appendix contains lists for prepositions, transition words, literary genres, and literary devices (allusion, hyperbole, irony, etc.). Words are color-coded by category (noun, adjective, adverb, verb, some phrases). There are also pages for students to make word lists for their own topics. This is a unique thesaurus; I've never seen anything like it!
Portable Walls: Finally, we're down to the last item! I told y'all it was a lot of goodies, didn't I? Portable Walls is perfect if you don't have a lot of extra space for regular posters. I know that I don't have much free wall space, and even if I did, I don't want to be tacking stuff up everywhere. This is a tri-fold folder/mini poster that contains more word lists, all of the Unit Models, information on dress-ups, sentence openers, decorations, and triple extensions. What a handy tool to have in your writing arsenal!
How We Used It
So, I consider myself to be a pretty relaxed homeschooler. We don't do a lot of intense work here, besides Math and Reading/Language Arts. Even though I had researched the Deluxe Combo, it's a totally different feeling when you actually get it in your hands and start looking it over. I wasn't sure where to begin at first. I put the 3-ring binders together and then sat down to really look through all of the different products and obtain access to my downloadable items. Since my only prior experience with IEW was Fix It! Grammar and it's pretty self-explanatory and less involved, I knew for sure I'd need to take advantage of the Teaching Writing DVDs. They are between 1 to a little over 2 hours long, so it's something that you really need to make time for. I'm only watching them as we move into new Units, so I've only watched the first one, plus the Overview DVD from the Student Writing Intensive. The DVDs are really invaluable, especially if you're new to IEW. Andrew Pudewa is an excellent host, and the workshops are fun and have a bit of humor. I like that he stresses that you cannot help your child too much, so it's not like you're throwing them to the wolves. Since we had already done some Fix It! Grammar work, we just started back where we left off with it before. By the time we received the Deluxe Combo, it was nearing the end of the school year, so I decided we would combine Fix It! and the Writing Intensive. We did Fix It! 2 days per week, and the Writing Intensive 2 days per week. Since the work is more intensive than we are used to, I wanted to break that up with something easier. Unit 1 has a lot of focus on outlining, which is something that I was never good at, and frankly, have never taught my kids how to do. The way that IEW presents it is SO amazing, and Rach was able to grasp the concept quickly. I was impressed! The Blackline Masters were handy to use for outlining, and there are quite a few article and poems available to print and use. There are also recommendations given for different grade levels, so you don't have to use the printouts from IEW if you don't want to.
Overall, I am really digging this writing program from IEW. I'll admit, it can be overwhelming at first when you see everything, but I am super impressed with it, and we've only just begun using it. I always hated writing in school because I could never think of anything to write about, but the tasks are broken down so well. Plus, yo have the DVDs, so if you aren't sure what to do or maybe aren't grasping something, you can just re-watch the DVDs whenever you need to. Since we are on Summer break we aren't using it currently, but I am definitely planning to start back up with Rach in the Fall, and I may even add Issac in as well for group work. I think everyone, even adults, can benefit from using the IEW program. The Portable Walls and thesaurus are probably my favorite items.
Be sure to read the reviews from my fellow Crew Mates. There were several products reviewed for IEW. Thanks for stopping by!