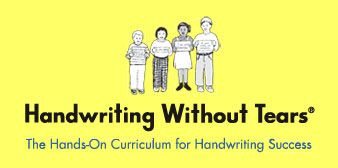 If you're a homeschooler, you've probably heard of Handwriting Without Tears. I know that I my 7 years as a homeschooling Mama, I've heard them mentioned many times in my group of homeschooling acquaintances.  My son Lucas, who is 4, has lately been wanting to do schoolwork like his older siblings, so he was excited when he found out he got to try something new that was just for him! We've been using the Wet, Dry, Try Android app for the last few weeks. The app is also available for the iPad, and works on Android tablets that have a 7" screen, but please note that it does NOT work on the Kindle Fire at this time, nor does it work on iPhones or Droid phones. The Wet, Dry, Try app aides you in teaching your Preschooler or Kindergartner how to write capital letters and numbers, and is the app version of the HWT Slate Chalkboard activity.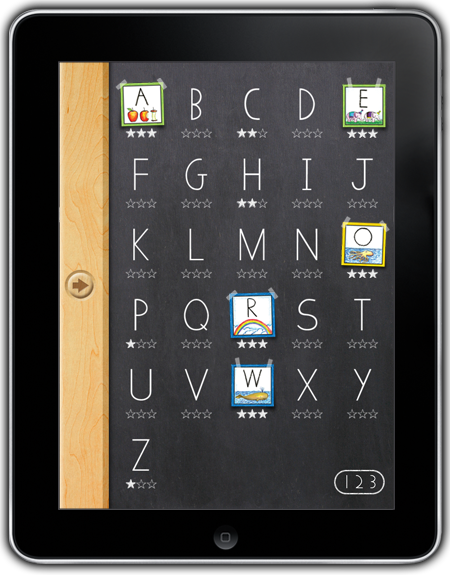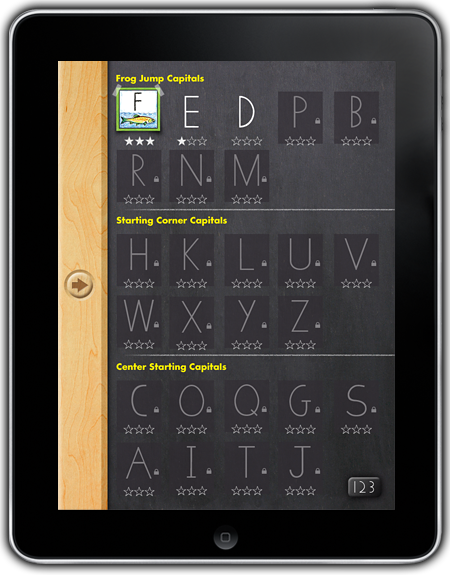 These pictures are of the iPad app, but the Android app looks the same.
We really enjoyed using this app. On the Home screen, you will see a place to enter your child(ren)'s name, and you are also able to choose Pick and Practice, which allows you to choose any letter or number, and HWT'S Winning Order, which has the letters organized into groups that have similar starting points and stroke sequences. When you tap on the name box, you can choose which person will be working at the time. You can have up to 4 users on the app. Some of the app features are: making the Stroke Tolerance easy or challenging, audio control (turning background music, voice instruction, and sound effects on or off), and you can also lock a user at certain levels in order to gain more practice before moving onto the next level of each letter. Once you choose which user will be working the app, you can then choose if you want to pick any letter or number (Pick and Practice), or use Winning Order.With Winning Order, your child has to earn at least 1 star on the current letter in order to unlock the next letter.
I really enjoy the audio, it is VERY clear and easy to understand, which is important for young children. I've never heard such clear audio in an app, and I am very impressed. The app is very encouraging as well, with each stroke of the letter that the child completes correctly. Even when your child makes a mistake, they are encouraged to ""Give it another shot!" The touch aspect is somewhat sensitive, so you can't just try to "write" all over the slate. I forgot to mention, the screen looks just like a chalkboard slate. It's really neat!
When you tap on a letter, you see a picture of the letter, as well as something that begins with that letter. For example, for the letter F, you'll see the letter, then a picture of a fish on the slate. Then, the child is shown the starting point of the letter, and how it's written.
 Remember the name of the app is Wet, Dry, Try? Ok, so next, a sponge will flash at the starting point. The child will place his/her finger on the starting point, and keep it there until they complete the first stroke. So first, the letter is writing with a sponge. After that is complete, a towel will flash at the starting point, and the child will repeat writing the letter with the sponge. Next, the child gets to "write" the letter with chalk! After they complete all 3 tasks, they will earn a star. Each star level is just a little more difficult that that last, in that fewer or no clues are given for the starting point. Your child can earn 3 stars of each letter. When all 3 star levels are complete, there is a Wall Card visual the spins on the screen. My son Lucas used the Wet, Dry, Try app along with the Flowering Baby curriculum  that I reviewed previously, as well as just generally playing it as a game. He enjoys it very much. I cannot think of anything negative to say about this product.
 Wet, Dry, Try is available for purchase in the iTunes App Store and Google Play for $4.99. I think this is a very good price for such an in-depth app. I have enjoyed watching my son Lucas enjoy himself so much while learning to write!
Disclaimer: I received a free copy of this product through the Schoolhouse Review Crew in exchange for my honest review. I was not required to write a positive review nor was I compensated in any other way. All opinions I have expressed are my own or those of my family. I am disclosing this in accordance with the FTC Regulations.