So, by now you know that Math is my least favorite subject to teach. In fact, I'd probably pay someone to teach Math to my kids if I could. Alas, I'm stuck doing it myself. As part of the Schoolhouse Review Crew, our family was given a year's access to GPALOVEMATH from GPA LEARN. GPALOVEMATH is available for grades K-5, so Ethan and Lucas were the lucky contestants for this review.
GPALOVEMATH is an online-based Math program, and is like nothing we've ever used before. The way it works is so unique. The lessons have animated teachers, or Coaches, that narrate them. The coach for K is Detective Digits, and for 4th grade, we have the Great Owl. Working a lesson a day, 4 or 5 days per week will be enough work for an entire school year per grade. Lucas is working in grade K, and it covers quite a few topics: additions, subtraction, number comparison, money, numbers, place value, objects, measurement, time, graphing, and shapes. In each grade there are more than 150 lessons, and 10,000 problems to solve, so this program could definitely be used as your base curriculum if you wanted.
The topics are broken down into Paths: Green, Purple, and Blue, and the topics I mentioned above are grouped into each path. The Green and Blue Paths were the same for both of the boys, but the Purple Paths were a little different for each.  Kids earn points and badges for each lesson they complete based on how well they do on the quiz portion of the lesson, and are also given a mastery level depending on their score. They are Apprentice and Master. The badges that are awarded are Rockstar which is gold, Excellent which is blue, and Nice Job which is Bronze. Anything less than a bronze, and the student will need to redo the lesson, although I will mention that lessons can be redone if desired.   Each lesson is broken down into 3 parts: Instruction, Practice, and Quiz. In the Instruction portion, the Learning Coaches teach the lesson's skill, as well as answer practice problems. Sometimes there will be mysteries to solve, and clues are earned by going through the lesson. The practice portion is fairly straightforward. The practice problems are not graded, and students are given 3 lifelines that will show them the answer if they get stuck. They can also click the text to have the problems read aloud to them. This is perfect for those who struggle with reading, and it worked great for Lucas! Ethan used this feature sometimes as well for those days that he felt too lazy to read.
Here you can see how the different paths are situated. You'll also notice that some lessons are locked. Students can unlock lessons by completing what's already unlocked. Lucas has mostly been working on the purple path so far. You may also notice the 4 tabs at the top. I'll go into those a little more in a bit.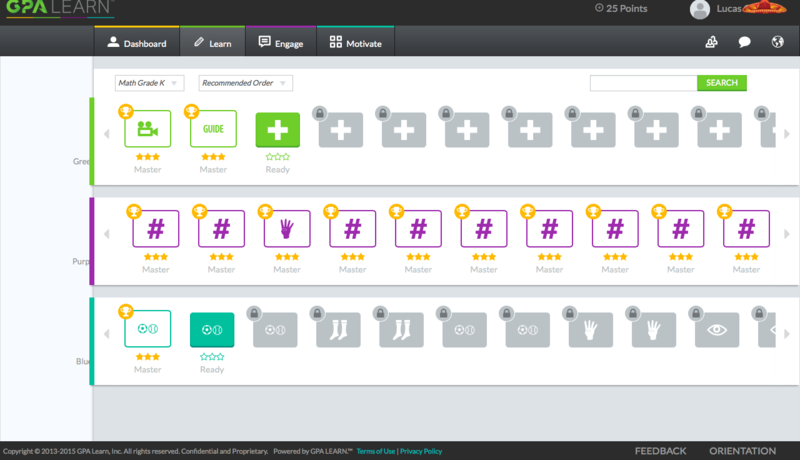 These screenshots were taken on my Macbook, and some of the text is cut off a little on the left in the Safari browser. However, in Chrome it's not like this. All of the screenshots in this review are from Lucas' work.
This is the quiz portion of a lesson on comparing green and yellow. See the bar on the left? Whichever portion of the lesson you are on is what will be highlighted. It also shows how the scoring works that I mentioned earlier. You can also see at the top that it tells you how many problems the quiz has and which one you're currently working.

This is the page after a lesson is completed, and the student see their grade. It shows how many points were earned for the lesson, how many stars,  that level they finished at, etc. When you click the green button, you are taken back to the lessons.

Let me touch on the tabs a little. The Dashboard tab is where you're first taken at sign-in. It shows the student's progress, how many lessons they've completed at a certain level, how many weeks they've been working, how many rewards earned, any Engage activity (I'll talk about that more), and when your subscription expires.

The Learn tab is where all of the lessons are, so I won't talk much on that, it's pretty self-explanatory.
The Engage tab is sort of like social media. Students are given their own Friend Code, and they can give this to any friend they may have who also uses GPALOVEMATH, and they can interact with them privately. The Parent account is automatically added as a friend. We didn't use this feature any, because I was usually with Lucas when he was working. Any friends added must first be approved by Parents, so this is a nice safe feature.
Finally, the Motivate tab! This is where the points system comes in. Here, students can see what rewards are available (there are a lot!), how many more points they need to earn to redeem the rewards, and what rewards they have already earned. Rewards are broken down into categories.


Some rewards are already pre-chosen and automatically rewarded at certain intervals, but if you log into the Parent account, you can change them around. I was surprised when Lucas received a reward that a parent would do one of his chores. Oops! The marketplace reward option is a bit unique. Students wishing to earn rewards here can actually earn real gift cards! Lucas has earned 2 $10 GCs to Toys"R"Us®! He was pretty proud of himself.
The Parent account look a lot like the Student side. We have the same tabs, but of course it's a little different. The Dashboard tab will show the process of each student, you just toggle back and forth between them. The Learn tab lets us test drive the lessons so that we know what to expect from them. The Engage tab is the same. All of your students are automatically added so you can message with them if desired. The Motivate tab allows you to build the reward list for your students. You can also auto-build the rewards if you don't want to pick and choose. You can also create your own custom rewards.
So, using this program, I could mostly leave the boys on their own to do the work, although sometimes I had to help further explain a few things to Ethan. Lucas did really well on his own, but he had to be reminded to slow down and listen to the lesson because he wanted to skip ahead. Since students can click the text in the lessons to have it read to them, I didn't have to sit and read everything to Lucas, which is very nice!
There is one downside I will mention, and while it may not be a huge issue for most, it threw us for a loop. When we were getting started with the program, Ethan and Lucas both sat down and watched the introductory video in their lesson tabs. The video has each of their Learning Coaches (depending on grade, of course), and they were super fun, and the boys were excited to get started. Then, they started watching the actual lesson videos. Once their Learning Coaches started talking in the lessons, both boys were way unimpressed. In the intro videos, the Lesson Coaches have normal voices, but in the lessons, the voices are robotic. I mean, the voices express emotion somewhat, but it was definitely off-putting for the boys.  Lucas is able to overlook it now most of the time, but the voices make the lessons way less enjoyable. Other than this, I really do think that GPALOVEMATH is a great Math program for any homeschool! GPA LEARN also offers a FREE 30-day trial of GPALOVEMATH.
You can go here to read reviews from my fellow Crew Mates. Be sure to also follow along with GPA LEARN on Facebook, Twitter, and Pinterest. Thanks for stopping by!