History is one of those subjects that bored me growing up, but I love hearing about now that I'm an adult. I also want my children to enjoy learning about History. I was ecstatic to be given the chance to review
Digital Heroes and Heroines of the Past:American History Curriculum
by
Golden Prairie Press
. Recommended for grades 1-6, the set retails for $98.99, and includes:
Heroes and Heroines of the Past: American History Parts 1 and 2
Additional Materials Downloads
Historical Skits e-book
Sing Some History CD (we received the download version)
Listen to Some US History MP3 Audio Download
There is also an optional corresponding coloring book for the younger crowd.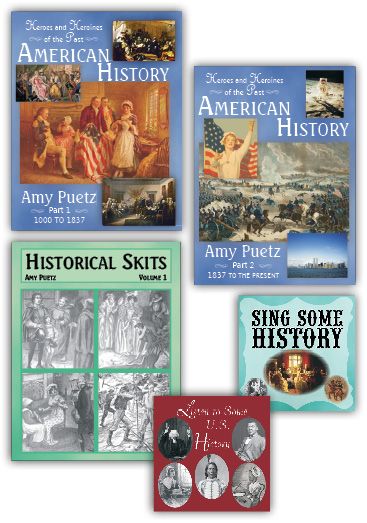 What Is It
This curriculum was designed by Amy Puetz, who is a homeschool graduate and the owner of Golden Prairie Press. I think that is super-cool that she was homeschooled!
E-books
This is a thirty week curriculum, and each lesson is broken down by grade. One section, usually a page or so,  has a more basic lesson for grades 1 and 2, while the other section is more detailed and in-depth for grades 3 through 6. Sometimes, the lesson won't be broken down at all by grade, it's suitable for everyone. E-book 1 covers the years 1000 to 1837, while e-book 2 covers years 1837 to present day. You'll learn about Columbus, Leif Erikson (the kids know his name from Spongebob, har), the Declaration of Independence, Sam Houston, Abraham Lincoln, and lots more. Each lesson takes around 30 minutes to 1 hour to complete, depending on your family, of course. There are some nice maps and drawings throughout the lessons as well.  It also covers some Geography and includes writing topics as well. At the end of the lesson are review questions, activities related to the lesson, and sometimes a memory verse or a picture of some historical art, or maybe even a recipe (there's even a recipe for play dough!)! At the end of each e-book is an answer key to the lesson questions, and it is organized by lesson. There are also some additional literature books with relative material that you can purchase.
Additional Materials Downloads
These are some fun supplemental materials, such as pictures, games, timelines, and coloring pages. The e-books will tell you which of these materials you'll need for an activity and what to do with it.
Historical Skits E-book
This is a book of nineteen skits covering the time periods from Columbus to WWII. They average needing between 3 to 10 characters, and are fairly short. There are 5 of us at home during the day, with 4 of us being able to read, so we can do quite a few of them. Obviously we don't have costumes, but the plays are still a fun thing to incorporate into the lessons.
Sing Some History
This is a collection of 20 songs that are mentioned in the book. Included are: All the Pretty Little Horses, Lavender's Blue, Liberty Song, Chester, Johnny Has Gone for a Soldier, Yankee Doodle, Hail Columbia, Tippecanoe and Tyler Too, Oh! Susanna, Missionary Farewell, Sweet Betsy from Pike, Dixie, Bonnie Blue Flag, Battle Hymn of the Republic, When Johnny Comes Marching Home, I've Been Working on the Railroad, She'll Be Comin' 'Round the Mountain, Pop Goes the Weasel, and Uncle Sam's Rich Enough to Give Us All a Farm (boy, I wish he would!).
Listen to Some US History
This is a nice collection of poems, speeches, sermons, etc. that are also mentioned in the book. It includes such readings as the Mayflower Compact, the Constitution, the Declaration of Independence, and the Bill of Rights.
How We Used It
I know that I mention this often, but we have what's called Group Time around the table for things that we can all do together for school. Some might call it something like Circle Time. Heroes and Heroines of the Past is a homeschool history program that's easily worked into our Group Time period. Even though Lucas is the youngest by quite a bit (5), I didn't feel like I needed to use the 1st-2nd sections just for him. I was able to read from the older grade section, and it worked great for us. The lessons are very thorough without being overly drawn out, and we were able to look at pictures and drawings while we learned our history. For the writing topics, I did those mostly as a "think out loud" question and answer so that everyone could easily give their opinions. I had taken some pictures of our activities, but unfortunately they were lost when I transferred phones. We all made some pretty awesome canoes that I wanted to show off. The kids enjoyed the questions that go along with the historical art portions of the lessons. It was always a race to see who could answer correctly first! I played the Listen to Some History Files as they they came up in lessons. Those files were sort of an open door to more discussion. We probably spent about an hour total on each lesson, 3 times a week.  We didn't normally make the recipes during school time, but they were a fun part of the day.
What We Think of It
We've very much enjoyed reviewing Heroes and Heroines of the Past. The kids we re always attentive and eager to ask questions. The lesson content is lots of fun and full of useful and interesting information, and I really liked having the extra poems and speeches available to play. The lessons were very easy to follow and the curriculum is simple to use. I like that you don't have to buy anything special if you don't want to, and that in incorporates fun activities and recipes. The only thing that wasn't really a hit was the music. The 3 older kids didn't really for it at all, but Lucas enjoyed hearing the songs. The plays were kind of hit or miss, but again, with homeschooling, you do what you need to make something work for your family. I'm really happy with the curriculum, and love that I've got a way for my children to enjoy History now!
Be sure to click below to read reviews from my fellow Crew Mates. We each received the same product, and had our own unique experiences. Thanks for stopping by!