As an emerging reader and lover of books and stories, I love to find books that interest my 6 year-old son. I was so excited to receive a copy of The Berenstain Bears God Shows the Way to review. I grew up with The Berenstain Bears myself, so I knew it's be a wonderful addition to our book collection. The books are well-known for their Christian themes. This book is really cool because it's actually 3 books rolled into 1!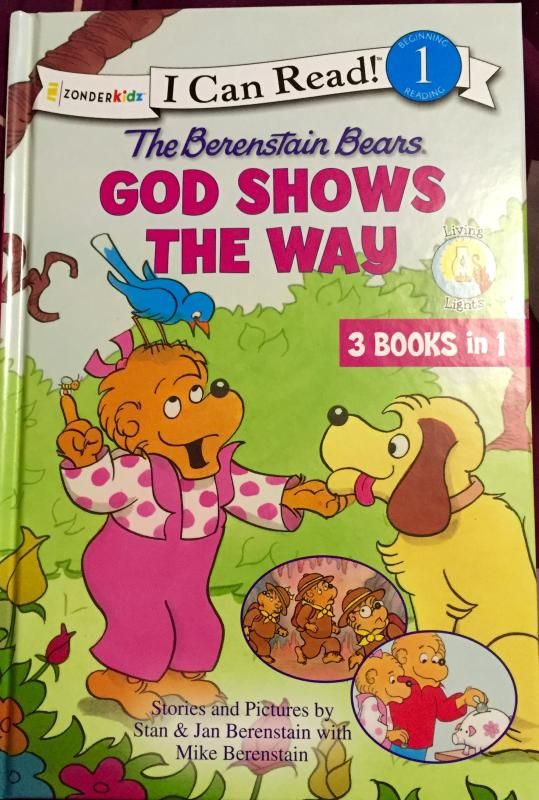 Faith Gets Us Through
Do Not Fear, God is Near
Piggy Bank Blessings
In the first story, the Bear Scouts are taking a trip to Spooky Cave to earn a merit badge. Spooky Cave lives up to its name, and the cubs are a bit afraid of going. However, the cubs realize how amazing the cave really is, and trust in God for their courage.
Next, whens she was small, Sister Bear was afraid of so many things: shadows, thunder, bugs, and even birds! As she got  little older, she realized she just had to trust that God would taker her fears away. When she put her trust in God, she wasn't afraid of all those things anymore.
Finally, the bear siblings learn that they cannot always have what they want. Mama teaches them the value of money, of saving for what they want. They did extra chores around the house to earn the money they needed for something very special. There's  a great surprise for Mama at the end!
This book has some great moral lessons, and is geared especially for early readers. Lucas isn't reading yet, but the stories are engaging and not too long. The words are a nice size print, so when he does read, the words will be easy to see.  This is a great book for all Christian families to own! Family Christian has a wide variety of Berenstain Bears books, so go check them out.
I was given a copy of this book for the purpose of reviewing. All opinions are my own.