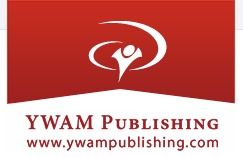 Growing up and going to school, History was always pretty boring to me. As an adult, however, I love learning about our History and am fascinated with what I learn. We were given the opportunity to read and review 
George Washington: True Patriot
 by Janet and Geoff Benge from 
YWAM Publishing
. The book is part of their Heroes of History series, and also includes a 
George Washington Unit Study Curriculum Guide.
 The book is 224 pages long, and available in paperback form, as well as audiobook, Kindle, and Nook for $6.99. It's recommended for ages 10+. The study guide is 64 pages long and available in paperback only and is $7.49.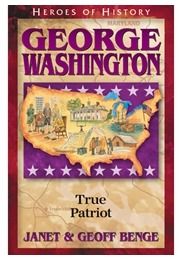 George Washington: True Patriot is 19 chapters long, and also includes a Bibliography. The book greatly details George Washington's life from his young years to his death. This is not a picture book, although the beginning of each chapter has a sketch drawing. I was surprised with how much information is discussed in the book. Did you know that George Washington has 2 half-brothers? I sure didn't. I may have learned that in school, but it's hard to say. The book starts by discussing George's early life in Virginia, the death of his father, his sibling relationships, and then goes on to talk about the French and Indian War, his adventures in surveying, his life with Martha, his years as the President, and his final days. I did the book as a read-aloud to the kids during our school time. Issac also enjoys History, and loves to spout off what he's learned, so he got the most enjoyment out of the book I think. I read 1 or 2 chapters per day, depending on how we felt (we've been a little under the weather).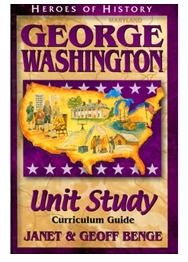 The George Washington Unit Study Curriculum Guide is the perfect compliment to the book. It's not very long, but it's got lots of great content. It's broken down into 8 sections, along with 2 Appendixes that include answers to chapter questions (I love that…I don't have to go rifling through everything. Who has time for that?!) The study guide includes (from the website):
Chapter questions/Key quotes
Student explorations
Community links
Social studies
Related themes
Culminating event
Books & resources

This is great for using with different learning styles. We all know that everyone learns differently. The work is mainly meant to be done for one person at a time, but instructions are given for adapting to group work as well. My favorite part is the Chapter Questions. There are 4 questions corresponding to each chapter; these are great for reinforcing what was read in the book, and the best part is, you don't have to think them up yourself. Unless you want to, of course, but I love having less work for me to do. Woo! 
  The student explorations section covers creative writing, essay questions, and hands-on activities like arts and crafts.
 The community links are about field trips and classroom projects. One suggestion is to visit a government building to see how things work in the House and Senate. I guess no one will be doing that any time soon, though. Nice, huh?
  The social studies section is broken up into 5 categories: places, vocabulary, geographical characteristics, timeline, and conceptual questions. We've never worked with timelines before, so this was really cool!
 The related themes section discusses other topics that are related to George Washington, such as politics, Math (he was a surveyor), History, Science, and Medicine. Lots of sub-ideas are given for each category, so you can find lots to talk about!
  The culminating event section marks the end of the unit study, and has some awesome ideas for activities that your kids can incorporate into their George Washington study, such as hosting a tea party, and having the affair all made up to look and feel like it would have in George Washington's time. How fun would that be?

  As I said before, we really took advantage of the chapter questions, because I really like to reinforce what we read about in the book. We also utilized the social studies section a bit, because I also like to cover vocabulary. The kids had never heard of bloodletting before, and once we discussed that, they were all "oh yuck, I'm glad we didn't live back then!" Ha!

  We really enjoyed this book and study guide from YWAM Publishing. I had never heard of them before doing this review, but based on this book, I would love to read more biographies with the kids. They are so in-depth! These would make awesome Group Time reading.

  Be sure to click below to read reviews from my fellow Crew members. Some reviewed the same book we did, and other review a book about Jim Elliot.