I've used several products in our homeschool to teach our children to read. Some have ben pretty intense, others fairly laid back, and some in the middle. For this review, Lucas and I were given the opportunity to try First Start Reading from Memoria Press. We have used Memoria Press products in the past with success, and I expected no less this time around.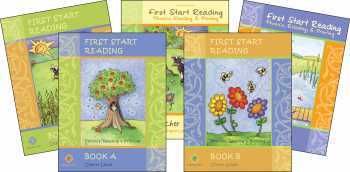 The First Start Reading set includes a set of 4 student workbooks, plus a teacher manual. The lessons contained cover consonants, both short and long vowels, manuscript writing, and 45 most-used words. Each lesson is 2 pages, and some of those have pictures to go along with the lesson's letter. The writing pages have several lines to do both tracing work and freehand writing, as well as empty space to draw their own picture related to the lesson's letter. Each writing line has a dot to show the correct starting point for each letter, even for freehand writing. I loved this, because it's something Lucas struggles with. Book A is 25 lessons long, Book B contains 26 lessons, Book C is 33 lessons, and Book D is 12 lessons long.  This program uses the vowel-consonant blending style, as opposed to consonant-vowel blending, and also focuses on pencil grip and proper letter formation. There are over 25 stories included, and students can read their first sentence by lesson 3. If your child worked a lesson per day, you could finish this in about 5 months. In the back of the student workbooks are word mastery reviews, along with dictation practice pages, book assessments, and assessment dictations. Book D is a bit more intense than the first 3 books. There's also a page of all 26 alphabet letters showing the correct printing order for both capital and lowercase letters. While it has fewer lessons than the first 3 books, the lessons take up more pages and have assessments upon completion of each lesson. The workbooks are consumable, so if you have more than 1 child working at the same level, you could easily do this work with more than 1 at a time. You would just buy a set of workbooks for each student. Here you can see a sample of the first 2 lessons from Student Book A.
The Teacher Guide is a bit massive compared to the student books, but even with over 300 pages, it's not filled with a lot of fluff. In the front are charts showing what each lesson covers and the page numbers. Then you'll find a nice overview of phonics, including a little information about Latin. You'll also find how First Start Reading approaches phonics, and some teaching guidelines, which are super easy to follow. There are also instructions on how to teach correct pencil grip.
The lesson plans are very nice. It's easy to see which lesson you're doing, because in the upper corners are the book and lesson numbers, as well as a small duplicate of the student workbook pages. General instruction for the teacher is in regular type, and teacher dialogue is in italics. There are some really cool ear-training exercises for students. These include students deciding which words begin or end with a specific phoneme. Other lesson exercises include upper and lowercase letter formation, and pencil check (several times). Some lessons may have different work, because they may have more word reading or sound blending than others. As lessons are worked, more words are learned. Possession is taught early on in lesson 16, but isn't shown again until the Book A review. The appendix of the teacher manual has several posters for you to hang on the walls. There's one for each vowel, as well as a left and right mitten, and left and right-hand pencil grips.
Here are the pages for Lesson 1 in the teacher's manual.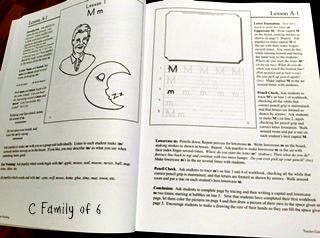 So, what do I think of Fast Start Reading? Well, I love it! It's seriously so easy to use. Everything you need to know is right there in the teacher manual. There is very little prep work that you need to do, if any. Lucas works at the dining table, since the dining room also doubles as our school room, and I have a whiteboard in there. The directions are simple to follow; the hardest part was getting Lucas to sit still, because he wanted to get straight to writing. This is not as intensive as other programs we've tried, but the lessons are still plenty full of great content. I didn't dread using this program at all! I'm so impressed with how quickly he has picked up on the blending exercises. His main struggle is pencil grip, but we work on that every day. Since we have homeschool co-op on Fridays, we use Fast Start Reading 4 days per week. This is my new favorite reading program, and I'm so glad we were blessed to use it!
Be sure to go here to read reviews from my fellow Crew Mates. Some received a different product from Memoria Press than we did. Thanks for stopping by!