I love having this muffin for breakfast. It's so yummy and sweet! You could also have it for dessert if you wanted (and can make yourself wait that long!) It's also quick and easy to make, which I love since I have 4 kids and little free time. Trim Healthy Mama doesn't have to be complicated!
Coconut Pumpkin Muffin in a Mug

2 tbs coconut flour
1 tbs almond meal or flour
2 tbs canned pumpkin (NOT pie mix)
1 tsp baking powder
1 tsp coconut oil
1 egg
1 tsp Truvia or a few shakes of stevia
1 tbs water
pinch of Real Salt
Preheat oven to 400F. In an oven safe coffee cup, whisk the egg. Add all ingredients and mix thoroughly with fork. If you'd like to make this more of an autumn-like treat, add a few shakes of cinnamon, nutmeg, and ginger. Bake for 10-15 minutes, then check for doneness. I've found with coconut flour, you need a little extra baking time for this recipe. You could also microwave this for a minute or two, but we don't own (nor plan to ever again that I foresee) a nuker. The almond meal gives the muffin a slight crunch, but if you don't care for that, you could run the meal through a coffee grinder to try and make it finer. If you'd like a denser muffin, leave out the baking powder. For an Autumn treat, add some pumpkin pie spice to taste!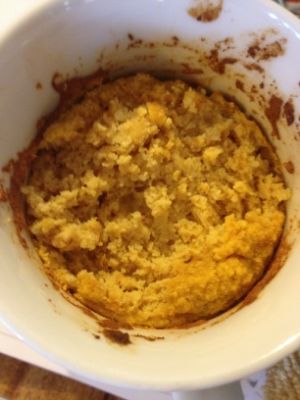 I took a bite before I remembered to take a picture. I seem to have that problem lately. Sorry! 🙂
This post is linked up over at Stacy Makes Cents for Trim Healthy Tuesdays!