Classical Conversations began in 1997, and is a leader in classical home education. Rachelle and I had the pleasure of reviewing one of their newest products, PreScripts Cursive Sentence and Art Lessons, available for $12.99 and recommended for ages 7-12, and is 145 pages.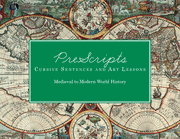 About This Product
The book is comb bound, so it lays flat, which I love and makes writing and drawing so much easier. It incorporates art lessons, such as patterns, architecture styles, manuscript illuminations, and technical drawing, along with fun factual history notes from a biblical worldview. Students trace and copy sentences about medieval history, and each history note is done twice. The lessons are broken down into four sets of six history notes, so student will learn and master twenty-four history notes. Charlemagne, the Hundred Years' War, and the Protestant Reformation are just a few lessons that are covered. The art lessons provided in the book correspond with the history notes, so for the Charlemagne note, there is a grid art lesson to do that shows Charlemagne being crowned emperor. Doing one page per day 4 or 5 days a week, this book is enough for an entire school year. Of course, the beauty of homeschooling is that you can go at your child's pace. If your child is able to go at a faster pace, you could ever do four or five pages per day. The book starts out with forming each cursive letter on its own, with tracing and copying, then moves on to the first art lesson and history note. PreScripts has a workbook for every age! They are:
How We Used the Product
I'll admit, I've not been too big on teaching cursive writing to the kids. Rachelle has just recently shown interest in learning to write cursive. I would like my children to have general knowledge at least, and to know how to sign their names in cursive. Rachelle worked one page per day at least. For the art lessons, there are also blank pages to practice previously learned lessons on, and she really enjoyed the extra practice. I know that when she completes the book, she'll have learned a great new skill she can be proud of.
What I Think
At $12.99 and 145 pages, this workbook is a steal! Combining art, writing, and history, this is like having 3 separate curricula all rolled in one for a great price. I also love the biblical perspective of the lessons. I'll definitely be checking out the other PreScript offerings from Classical Conversations! For more TOS Crew Reviews, click below.