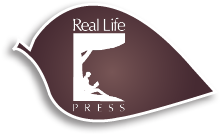 I think that all moms could use a little help in finding ways to make the most of their time. Especially we moms who are homeschoolers. I definitely am no exception. Sometimes it feels like the day flies by and it's over. What did I accomplish that day? Am I expecting too much of myself? Too little? What can I do to manage my time a bit better? As part of the Schoolhouse Review Crew, I was given the opportunity to read The Busy Homeschool Mom's Guide to Daylight  from Real Life Press. The book was written specifically for homeschooling moms by Heidi St. John, who her self is a mom to seven children and has homeschooled her children through high school.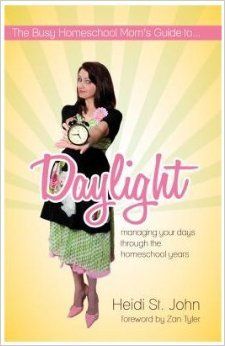 Even though I'm in my ninth year of homeschooling, I still have times when I feel like I'm nearing the end of my rope and I wonder what on earth I'm doing. How in the world will I fit all of this work into our day? Am I doing enough work, or too much? I'm pretty sure that all homeschooling moms have made a huge deal out of homeschooling, when in fact it doesn't have to be that way. Most days I do feel like a headless chicken running around, but with 4 kids to teach and a household to run, I think that's somewhat understandable.
Heidi's book is a fairly quick read at 8 chapters and 195 pages long. You'll find some ideas on how to maximize your homeschooling, chores, homemaking, cleaning, and scheduling.  She is very clear, though, that what works for her family, or any other family, may not work for yours. You need to find what works best for your family, and that will take some work. Your first priority is to make your marriage your most important relationship at home. I wholeheartedly agree with this. Too many marriages suffer the consequence of putting other things first, but you made a commitment to love someone for the rest of your lives. Of course you need to care for your children, and there are many times that they needles of attention, but you still must make time for your spouse. They are your life partner, and you can and should help ease each other's burdens.
Chapter 1: Intentional Daylight, discusses a P.O.A., or Plan of Action, and why you need one. There are 4 components to making a POA: seeking the Lord's guidance, scheduling, making time for yourself, and creating white space.
Chapter 2: Organized Daylight, may be the most important for me. We moved into a bigger space last year, and I was pretty stoked about having more room. I still am, but my organizational skills are sorely lacking, and I still find cluttered spaces. It drives me batty! Heidi grew up in an organized home, and is pretty organized herself. She has some great ideas for controlling clutter!
Chapter 3: Scheduled Daylight, is great if you are feeling frazzled and have no idea where to go next. I made a schedule for our family last year, and while we don't stick to it 100%, it's still a great tool. Heidi shows a few examples of schedules from different families.
Chapter 4: Hungry Daylight, has tips on how to maximize your cooking throughout the day. With a few tools of the trade and some thinking ahead, you can make cooking a little more painless and fun.
Chapter 5: Discouraged Daylight, is a very encouraging chapter. If something isn't working for you, don't give up. Try again! Change things up and do something different. Depend on the Lord for your strength and guidance. If you are struggling, don't be afraid to say it. All homeschooling moms have gone through struggles, and chances are you'll find someone who's been there and done that.
Chapter 6: Consolidated Daylight, is like the perfect chapter for me, I think. It covers teaching multi-grade children, and with (currently)  8th, 6th, 4th, and Kindergartner, this is what I looked forward to the most. Some of her ideas I have already used in the past, and some I have shied away from.
Chapter 7: Wasted Daylight, is a good one, and I felt a little like she was talking to me personally here. This chapter covers how many of us waste our days on social media and such. I know I for sure am guilty of this, and I know that many others are as well. Staying home with my children all day doesn't allow me much physical outside social time, so I socialize a lot online. Teach yourself to guard your heart and time.
Chapter 8: Surrendered Daylight, is another great one for all moms, but especially homeschooling moms. We have a unique calling. We aren't just stay-at-home moms, we also are educating our children full-time. What does God want for our homeschool? It's okay to not shoulder the burden all on our own, and to surrender to God's will.
I enjoyed this book very much. I've been a homeschool mom for nearly a decade now, but I do not consider myself a pro at all. As we enter into new season of homeschooling, I am still learning new things myself. Our oldest enters high school in the Fall, so we'll be going into a whole new season. Heidi does a great job of encouraging other moms in their calling, and I love that she is adamant that not everything works for everyone. I think this is something that a lot of moms struggle with. We are all familiar with mommy wars, and our culture does a great job of making us feel worthless many times. I love that The Busy Homeschool Mom's Guide to Daylight is not pushy, but gives gentle guidance instead. While this is a somewhat short book, I took my time reading it. I love the ideas that Heidi gives, and while they won't all work for me, I did still get a lot of great info and new ideas. I really don't have a bad thing to say about the book at all, and definitely recommend it to all of my fellow homeschool moms.
Be sure to read the reviews from my fellow Crew Mates as well. Different products were reviewed for Real Life Press. Thanks for stopping by today!