Our family is not new to Alpha Omega Publications. We have used their Switched on Schoolhouse program in the past, so I already knew they offered quality products. AOP is nearly 40 years young and was initially founded as a curriculum choice for Christian schools. They've been a leading homeschool curriculum choice for more than 30 years. They offer a wide array of curriculum choices. If you want books, they have them, and if you want computer programs, they have those, too! The Crew was given lots of choices for grades preschool through 2nd grade, and our family was lucky enough to be given a copy of Horizons 1st Grade Health Set for this review. Lucas is in 1st grade this year, so he was the lucky kiddo!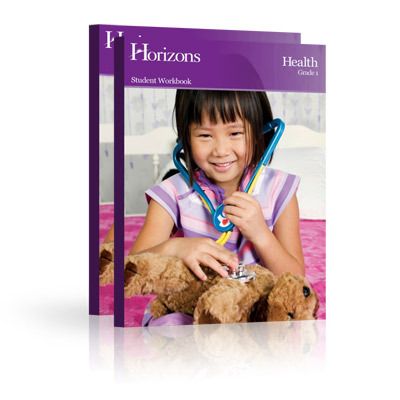 The 1st grade Health Set includes a teacher's guide and student workbook. I know with some curricula, you could get away with not having the teacher's book, but with this program you really need it. This is the heart of it. The teacher manual is divided into 7 units:
Getting to Know Myself
Created to Live in a Family
Living with Others
My Amazing Body
Making Healthy Choices
Safety First
Starting Right
Each unit has between 5-11 lessons within, and there is a total of 50 lessons altogether. Each unit begins with an overview and includes information such as the unit's summary, goals for each unit, a unit background in a Christian perspective, vocabulary words to incorporate in the lesson, additional unit resources that are recommended, and resources for each specific lesson. Lessons are also broken down by any necessary preparation and/or materials, lesson objective, a lesson background in select lessons, additional related activities, and some lessons will also have music and lesson resources. The program recommends making hand puppets to use with lesson dialog. So, for example, Lesson 2 is about likenesses and differences. The lesson preparation and materials includes 2 puppets, reading the puppet script in the lesson (or making your own), the Student Activity page (more on that later), and the option to sing the song from lesson 1. The lesson objectives are for students to understand the concept of similarities and differences, identifying similarities and differences, and appreciate the creation's diversity. Not all lessons will have all of the sections that I listed earlier.
The student workbook has 42 workable pages. The pages are perforated for easy removal. Note that not every lesson will have an activity page, but the top of each page will tell you which unit and lesson it corresponds to. Some lessons will have multiple activity pages to do. Activities include cutting and pasting, coloring, writing, hole punching, assembly, drawing, and crossword puzzles. Many activities are great for improving fine motor skills. It's not really feasible to use the workbook on its own without the teacher manual. You would have to totally make up your own lessons to do that, and it would be a lot of work.
Grade 1 Health is designed to be taught 2 or 3 days per week, and we did this 3 days a week. I read my teacher portions before starting so I'd have an idea of what to expect and such. There isn't that much prep work most of the time. You could make your own puppets, or just go buy some. They need to be different because there will be some dialog between them. Since we were on Summer break during the review, we haven't done any of the extra activities yet, but I will add some in now that we're back work again.
Overall I can recommend Horizons 1st Grade Health Set. It was a bit different than I expected, since I had figured on having a worksheet for almost all of the lessons, but even though it doesn't work out that way it's still a good program. There is a nice amount of content to teach, but not an awful large amount. This is geared towards younger children, after all, so they would get bored quick if there was much more. If you have more than 1 child you could probably adapt this to make it work for everyone somehow, but you'd have to buy more workbooks for each student you want to use this with. That's pretty normal, though, for programs like this.
Be sure to read the reviews from my fellow Crew Mates, as we all received different products from Alpha Omega. Thanks for stopping by!