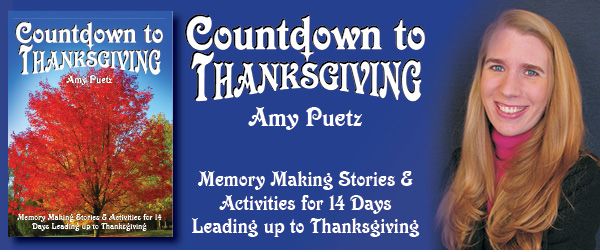 I love getting ahold of new ideas to help celebrate a holiday. I received a copy of Amy Puetz's book, Countdown to Thanksgiving, to review. I'm just gonna go ahead and tell you that I love it! It's 88 pages long, so it's no small book!  The countdown begins exactly 2 weeks before Thanksgiving Day on November 13th. Each day includes a story and an activity of some sort. It may be a song, a craft, a recipe(my favorite!), a game, or even a skit! There's even a fun countdown sheet that you can copy with fun graphics, so you can mark off each day as you countdown to Thanksgiving.
I really love the stories. Most of them are from the late 1800s or early 1900s. I love reading old timey stories like the ones in the e-book. I enjoyed reading through this e-book SO much, and cannot wait to go through everything with the kids, and do our own Countdown to Thanksgiving! The book can be used with your family year after year!
Amy has lots of great resources on her website, so be sure to head on over and check them out!
*Disclaimer: I received a free copy of this e-book in exchange for my honest review. All opinions are my own, and I was not compensated in any other way.*