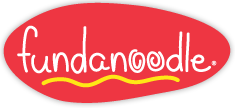 Lucas almost always asks to "do school" while the 3 older kiddos are working. To him, being left out is the worst thing ever. It makes for a busy and trying time during the day sometimes. Enter Fundanoodle: a new education brand from Carolina Pad to assist in handwriting and other motor skills. Fundanoodle helps to improve skill-building with
hand-eye coordination
fine and gross motor skills
visual and physical exploration
problem solving
 They offer 15 modules that range in ages from 3 years to 1st grade. We were given the opportunity to review the Blue Level, which is geared towards PreK-K ages. We received I Can Do Math Level 2 and Max and Alphie's Adventures Level 2.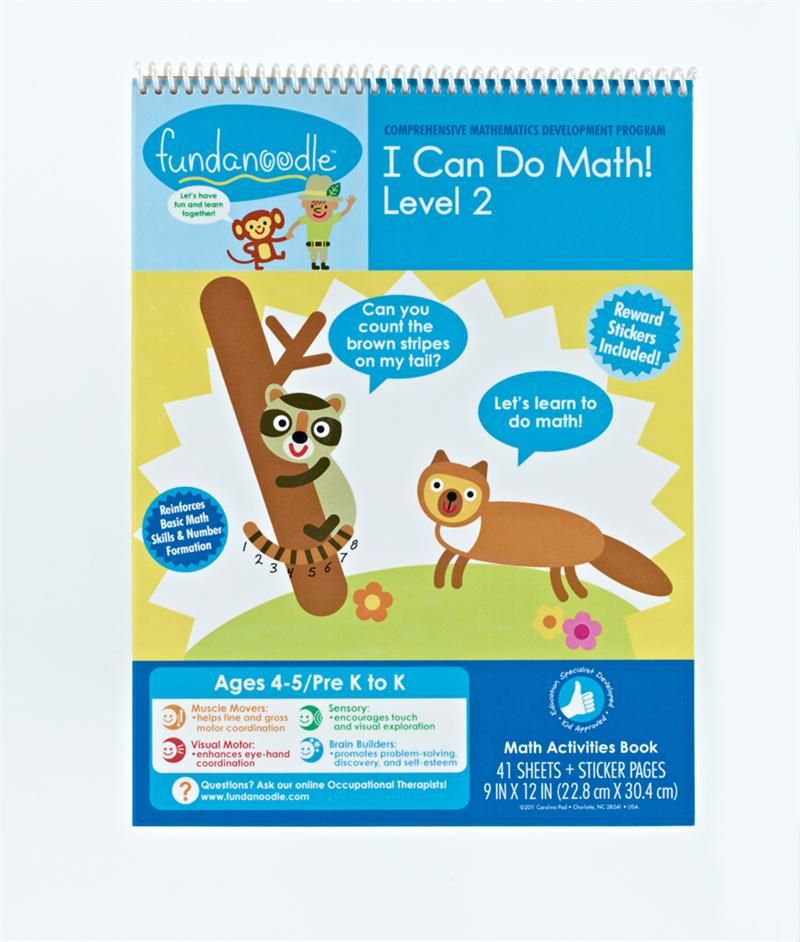 The first thing that caught my eye about these books, is they are big, y'all. I mean seriously. According to the front cover, the tablets are both 9″x12." That doesn't seem like much when you think about it, but when I saw them I thought my eyes would bug out of my head. This is not a complaint at all. Little kids need big things, dontcha know, and these are a great size for beginning writers. The front and back covers are a nice sturdy cardboard. I don't know about you, but my kids are rough on everything. We've had these books for well over a month now, and they've help up nicely. Both of the books that I received feature best friends Max the Monkey and Alphie the Adventurer. Max loves numbers and letters, and Alphie is an alphabet master who like to help others learn to write. These books are consumable, so unless you have loads of elbow grease to erase all the pages, you'll only use them once. The tops of the pages are also perforated to easily tear out and stick to your fridge!
   I Can Do Math! Level 2 features letters, numbers, number words, shapes, and stickers. It's 40 work pages long, plus 2 pages of stickers. These people are smart; they put the stickers in the back. Of course, Lucas found them anyway, and wanted to stick them on everything, but I managed to hold him off. The very first page is an instruction page of sorts. It starts with 3 writing lines; the first is uppercase letters,the next is lowercase letters, and finally numbers 1-10. They each have basic how-to-write instructions. The bottom shows Max the Monkey giving his own special writing instructions. They're fun words like Zip, Zoom, Buzz, Hop, Bump, and Dot. The pages teach tracing, free writing, connect the dots, coloring, matching, and greater than/lesser than. There is a space for one sticker on the bottom of each page. All of the print is black or grey, which makes sense so that there's not an overwhelming amount of busyness going on before your kids even get started working.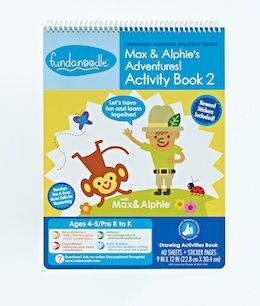 Max & Alphie's Adventures! Activity Book 2 is a drawing activity book. It features 38 work pages and also 2 pages of stickers. This deals more with problem-solving with activities such as mazes, finding differences, connecting the dots, and tracing. While this book works with about 4 skills, I think this is a good thing because this is great reinforcement. By repeating the same thing often, your child will pick up those skills faster. They'll get to help a worm through a maze of dirt to find grass, match connect-the-dot shapes, connect-the-dots to make a giraffe, trace dotted lines to make a rabbit, and help a mouse find the cheese (it's not a live mouse, so stomping it won't do any good.)
  Lucas immensely enjoyed both of these books. We generally tried to do one page from each book a day at least, and of course he had to place the stickers himself. The great thing about these books, is that when you're working the pages, they can pretty much be worked anywhere as long as you don't tear them out. Since both the front and back covers are so sturdy, they make great work areas on their own. These are spiral bound, and the pages are easy to flip. I really love how easy they are to use, and Lucas enjoyed working in them a lot!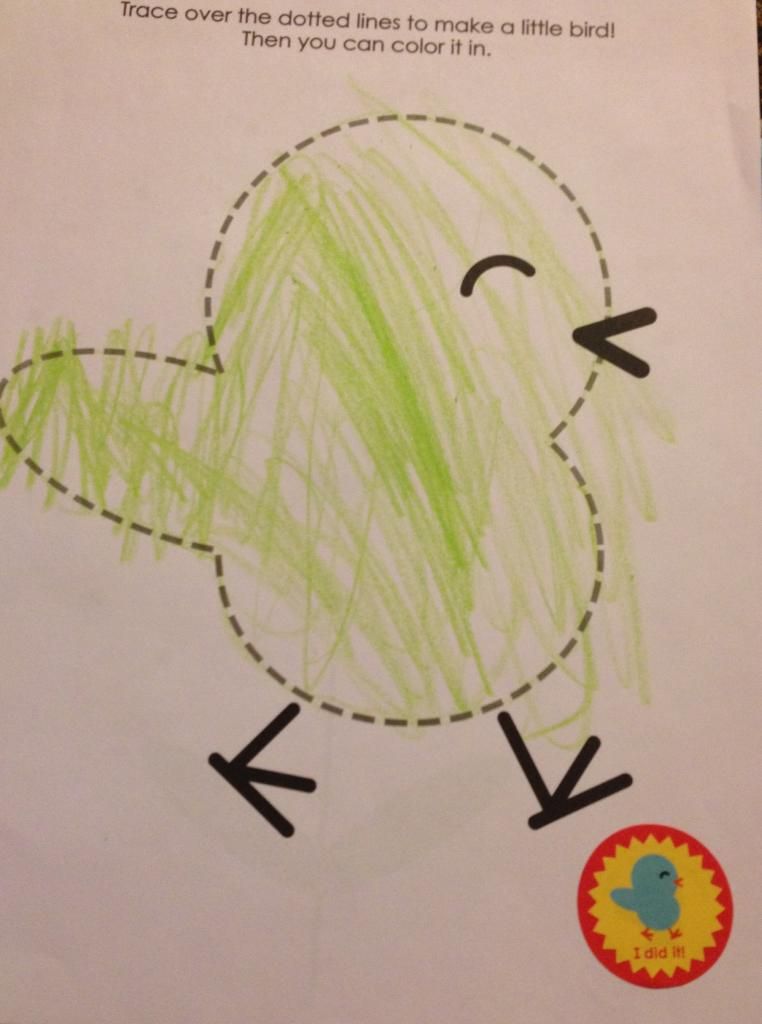 Each book is available for purchase for $5.99 plus shipping.
 Fellow Crew members also reviewed products from Fundanoodle. Click below to read more reviews!