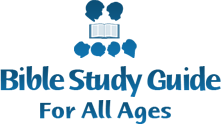 Bible Study Guide for All Ages is just what the name says…a multi-level guide to studying the Bible for everyone! The Bible Study Guide began in the 1970s, when Mary Baker, a mama to 4 kiddos (like me!) was having difficulty finding a Bible curriculum for her children and her Bible class at church. After some self-study, she began to write her own Bible guide, with the first Teacher's Unit being publishes in 1980. Gradually, several family members stepped up and began working with Mary and the company and expanding the curriculum. The Guide is broken down by age group:
Beginner
Primary
Intermediate
Advanced
There are also options for teens and adults. We were given the Beginner Level to review, which is recommended for ages 3-Kindergarten. We received:
   The inside page of the Student Pages book contains Quick Teacher Instructions to help you get started. The lessons start with 1 Time Line page, followed by memory work, a song, and review questions for the current and previous lessons. Some lessons also include a "Get Active" activity, which is some physical activity such as drawing, jumping, building blocks, etc. Every 4th lesson, the Get Active section is replaced with My Bible, which is an activity that helps familiarize children with their own Bibles. "Discover the Bible" is the actual lesson. It's broken down into numbered illustrations along with corresponding text. There are short activities to go along with the illustrations and texts, such as tracing a heart around Rachel, Jacob's favorite wife, and coloring Joseph's brothers. There's also an "Apply It!" section that includes an application verse, a coloring picture that relates to the verse, questions about the picture and applying the picture to the lesson and student's life, and prayer suggestions relating to the lesson. The "Discover the Bible" section is the entire backside of the page, and everything else is on the front. A note for the CDs; there are no included lyrics anywhere, so if you do not know the songs, you'll either need to look up the lyrics, or listen to the songs several times to memorize them. 
  I used this set with Lucas. Lucas was SO tickled to have his very own Bible study guide. It's not been very easy for me to find anything Bible study-related for his age. Something that's fun, engaging, and for little ones to understand. We averaged 1 to 2 lessons per week, although if your child does well with sitting still, you could certainly do more work at a time. Lucas is just now starting to do sit-down work, so right now we're breaking up lessons into 2 sessions. I love how easy the lessons are to work and they are very young-child friendly. The Student Pages sheets tear off very easily, which is nice since you flip back and forth during the lesson. Just be careful to not lose half of your book, because, seriously, they tear apart very easily. The lessons are easy and fun to work, not that I'd really call it work. 
  Lucas and I enjoyed the Beginner's Bible Study Guide a lot! If you're looking for a Bible study guide for your family, be sure to click below to read reviews from other Crew members. We each received different products. 🙂